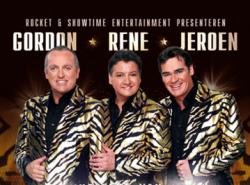 A little well kept secret was revealed at the Dutch winning press conference where Gordon from The Toppers revealed why he was particular happy about Shine being the winning song: He wrote it himself! Not even his two other band members knew about this.
Tonight it was decided which of six songs The Toppers would be singing in Moscow at the 2009 Eurovision Song Contest. In a combination of 30% jury and 70% televoting the song Shine was chosen. One of the three band members, Gordon seemed particular satisfied with this result and at the following press conference he revealed why. The songwriter called Ger van de Westelaken doesn't exist as this is a name Gordon made up himself. He wrote the song together with Bas van den Heuvel who also co-wrote last year's Dutch Entry Your Heart Belongs To Me which Hind didn't manage to bring into the Eurovision Song Contest final.
Gordon had decided not to be openly about his own interest in this entry as he wanted all six songs to compete on equal terms. He kept it so much a secret that not even the two other band members René Froger and Jeroen van der Boom knew anything about it!
If The Toppers manage to shine so much in the second semi-final on Thursday the 14th of May that they qualify for the Eurovision Song Contest final two days later it will be the first time since 2004 the Netherlands is taking part in the grand final. Below you can see the performance of Shine.