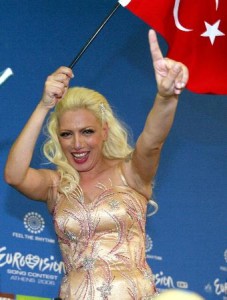 Turkish "superstar" Sibel Tüzün has started to film her second movie, called 'Çılgın Dersane (Crazy School)', according to her fan club.
After preparing for the new maxi single, which will be out in the Spring, Sibel started working non-stop on her new movie. This time it seems that the set will be harder for her.
The filming of the movie will be done on a mountain-camp and Sibel will continue her role as a teacher in it. She will also be trying to get another actor/singer, Mr. Topaloglu, she says in her interview. It seems we will have an enjoyable movie this Summer.
She also declared her opinions about the Eurovision Song Contest to the fan's website: "We definately support whoever goes to the Eurovision Song Contest as other countries do, but we unfortunately do it differently; we just criticise and show our dislikes about both singers & songs. My experience on Eurovision was magnificient, there were a lot of countries, TV channels and many people accredited to the show. It was also unforgettable to represent my country – Turkey- at that night. I hope I have same feeling again."
Links