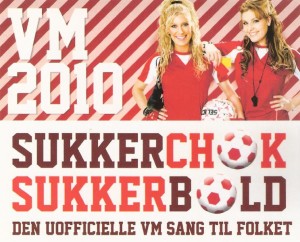 The girl band Sukkerchok who has participated in the past two national finals in Denmark has released an unofficial football song in support for the Danish national team at the World Cup in South Africa. The song is called Sukkerbold and is mixed with some football commentator sound.
Though Inez, one of the girls in Sukkerchok in March announced that she left the others in an attempt to try a solo career the girl band didn't stop. The remaining two, Malene and Kat didn't want to let the successful band die so the trio became a duo – until another girl might turn up.
The duo has now released a football song with the simple title Sukkerbold. This is an unofficial World Cup song as an official one has already been released. At the end of this article you can hear both Sukkerchok's song plus the official Danish 2010 World Cup song called The Danish Way To Rock. The national team participates on this one as there is tradition for in Denmark.
Sukkerchok ended on a tied third position in the 2009 Dansk Melodi Grand Prix with the song Det Det. This year their song, Kæmper For Kærlighed, ended outside top4.
The lyrics for Sukkerbold (translated from Danish):
Look up – make space – for her comes Denmark – from first kick
Small country – big courage – fired up and ready for fight – Oh yes
The goal stands high and clear – all the way in full speed – candy coloured, red and white
The gold is waiting, it is time
Now where the scene is set – football fever kicks in – we are doing this for the Danish population
Up and stand and jump the beat – and now place a sucker ball – fired up by sun and Danish flags
And if we keep our head cold – Yeah!
Before it is whistled off – then we place a sucker ball
Far away from home – down there in the warmth – we stand together
One public party – when we win the match – Oh yes, Oh, yes
The goal stands high and clear – the whole team in full speed
Candy coloured, red and white – the gold is waiting, it is time
Now where the scene is set – football fever kicks in – we are doing this for the Danish population
Up and stand and jump the beat – and now place a sucker ball – fired up by sun and Danish flags
And if we keep our head cold – Yeah!
Before it is whistled off – then we place a sucker ball
There are football legs – big, big problem
Then score, Denmark – anywhere and anytime
Then there will be a party
Now where the scene is set – football fever kicks in – we are doing this for the Danish population
Up and stand and jump the beat – and now place a sucker ball – fired up by sun and Danish flags
And if we keep our head cold – Yeah!
Before it is whistled off – then we place a sucker ball