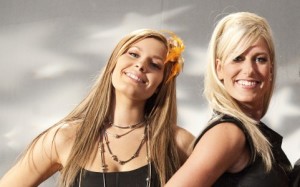 Popular Danish final trio that got reduced to a duo shortly after their second attempt to represent Denmark at the Eurovision Song Contest is currently half way through their selection of a new member. 10 girls are left in the competition where the public will now be voting – one of the hopeful ones is daughter of a former Eurovision participant.
The selection started on the internet where people could sign up for an audition. 100 girls were chosen and with 50 each day they presented themselves to the two Sukkerchok singers Malene and Kat and their manager on Tuesday the 17th and Wednesday the 18th of August. The auditions was a part of the morning programme on TV2 that is broadcasted from Tivoli, Copenhagen and each of the 100 girls were asked to present themselves, to dance and to sing one of three Sukkerchok songs. They had in advance been told that they could choose between Hvor Som Helst – Når Som Helst, Besat and Det Det´. The latter being their 2009 Dansk Melodi Grand Prix entry that finished third.
After seeing and hearing all 100 girls the duo and their manager selected 10 they will like to go through to next stage. Those girls were presented in the same morning programme today. Malene and Kat both said that they were feeling less sure to be able to find a suitable girl after the first day of auditions, but the second day made them more confident. They are looking for a girl who has the whole package; a good look, performer gen and of course a fantastic voice. The voice alone will not be enough and during the rehearsals several blonde girls have been told that they would prefer a non blonde. Malene and Kat are both blondes whereas the girl who left the trio was brown haired.
 
Most of the girls have singing and performing experience and one of them can even brag about being the daughter of a former Eurovision Song Contest participant; Debbie Cameron who represented Denmark in 1981 together with Tommy Seebach.
It is now up to the public to cut those ten girls down to five possible new Sukkerchok members. A semi-final will be held on Wednesday the 25th where these five girls will have to do a live performance. Based on that the public cuts down the five to three girls for the final on September 3rd  where Malene, Kat and their manager will decide who they will be recording and touring with and who knows maybe represent Denmark together with in Germany next year.
 
If you want to vote for any of the ten girls you can do so at TV2's website where you also can read more about the ten girls (in Danish) and see videos from each their audition. All you have to do is scroll down in the article that has the voting just below the main article picture.
The ten girls are:
Caroline: A 23 year old dancer who is also trained as a dancing instructor. She has been playing theatre as a child.
Emily: A 24 year old girl trained at a Danish performer school similar to Fame Academy. She works as a promotion girl, but has also had several jobs as a backing singer.
Ida Marie: A 20 year old girl who is still unsure about what she wants to do except from that she would like it to be something with singing and dancing.
Kathrine:  A 21 year old customer consultant who also works as a model. She played theatre as a child and has participated in several Karaoke competitions.
 
Michelle: A 22 year event coordinator who is trained at a show Academy. She has participated in musicals and other music performances and has tried the tour life before.
Natasja:  A 21 year old girl who has a ten months old son. She works in a kindergarten, but doesn't have experience with singing on a stage.
Sandra: A 23 year old Musical singer who is educated from a Musical Academy and as a child participated in MGP, The Danish Junior final.
 
Shila:  A 25 year old girl who by a coincidence got a pop career in Montenegro. She has also been singing gospel and musicals and is currently working at an elderly home.
Simone: A 23 year old stylist and make-up artist. She is daughter of Debbie Cameron and her grandmother, Etta Cameron who was born on Bahamas and died this spring was one of Denmark's most successful gospel singers.
Stephanie: A 26 year old office assistant who is use to performing as she sings backing for her dad who is a solo singer. Last year she participated in All Stars, also on TV2.