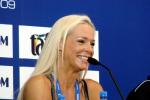 One day has gone by since the first semi-final. In the Swedish media, there has been a lot of reactions to the broadcast, Malena's performance and the Swedish commentators.
In Sweden, the first semi-final was seen by over 2 million viewers. Considering that it was in the middle of the week and that the show started fairly late, this is very good ratings. However, there has been a lot of reaction in the Swedish media since last night. According to the Swedish newspaper Aftonbladet, their readers gave Malena the highest grade possible for her performance. But there has also been a lot of criticism aimed at the production of the sound, as the sound during Malena's performance was really bad. The opinion seems to be that the music drowned Malena's singing and that the backing singers was heard above her. Christer Björkman, head of delegation in Sweden, tells one of Aftonbladet's reporters in Moscow that he will take contact with SVT's sound technicians in Stockholm to try to sort out what the problem is. When that is done, he will take the actions needed to improve the sound before Saturday night's final.
Another big headline during the days has been that the Swedish commentators spoiled the excitement for the viewers by screaming "YYYYEEEESSSS" before the hosts announced that Sweden was through to final. There is a slight delay in the broadcast that the commentator's didn't know of, and they therefore screamed as soon as they saw the result. The project manager for the broadcast, Anette Helenius, noticed the delay during the announcement of the finalists, and immediately contacted the commentators in Moscow. But since Sweden was one of the first few drawn countries, the harm was already done.
Those of you that have ever been to a Eurovision Song Contest press conference know that it tends to be more similar to circus acts than anything else. This year is no exception. Malena was drawn to be the first one to answer the journalist's questions. The first question was which male participant of Eurovision Song Contest 2009 she considered the most charming and sexy one. Malena answered that the question was not fair as she thought that there are a lot of sexy woman participating too. But after a few seconds of thought she answered "Sakis". Her second question was if she would consider to participate again now that she is through to final. Malena laughed and answered: "If I get really really drunk next year as well, I might say yes".
As EuroVisionary reported earlier, Sweden made it through to final last night along with 9 other participating countries. Turkey, Iceland, Armenia, Malta, Portugal, Israel, Finland, Bosnia & Herzegovina and Romania will join Russia and the big 4 on Saturday. Tomorrow, 19 more countries will battle for the last 10 places in the final.