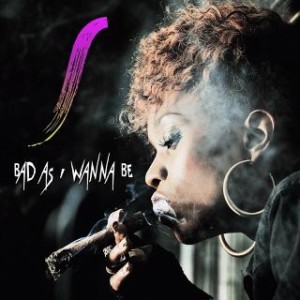 Stella Mwangi is back, bigger and brasher than ever. Her new single Bad As I Wanna Be is the first release since the death of her father in January. With both a tougher image and attitude, Ms Mwangi's transformation is attracting much criticism as she flirts with narcotics.
The artist disappeared completely from the limelight following the sudden death of her father Jeff back in January as the result of a hit and run incident. Since then there has been a wall of silence around the artist with the exception of a few appearances in the national media. Stella Mwangi is now back and appears to be promoting her up and coming single, Bad As I Wanna Be, due for release on the 29th of June at full throttle. The cover image for her new single more than lives up to the its title, with Mwangi pictured with drowsy eyes apparently inhaling from what looks like a cannabis cigarette. The artist has herself published the picture in numerous social medias, commenting "Tell them that I'm as bad as I wanna be." Her actions and statement has provoked an enormous reaction. 
A number of experts, among them Knut Reinås, chairman of the organisation Forbundet mot Rusgift(Assosciation against Narcotics) and Adrian Farner Rogne, chairman of the youth organisation Juvente have publicly criticised Mwangi for her open connection with drugs and the drugs scene. They claim that Mwangi is
helping to glamourise the drug taking that is prevalent in the music industry and Reinås laments her involvement: "It is problematic that she is a repsected artist who chooses to flaunt cannabis usage in this way and I'm convinced this will influence some of ther fans. I've always considered her to be a positive figure in the music industry, but her latest publicity stunt and marketing with such heavy assosciations to drug usage is quite simply disappointing."
Her single is the first taste of her album which is due for release later in the year. Mwangi's record label EMI say that they don't understand what all the fuss is about: "This (the controversial image) is taken on a photoshoot in Kenya without any of us present. We think it's a great picture and when people listen to the song, they will see that both the image and song complement each other perfectly", head of promotion at EMI Ida Lyxzén stated when confronted with the criticism.
Others are also quick off the mark to make their opinions known, including public relations expert Jarle Aabø, who defends Mwangi's actions with the following statement: "I haven't got a clue what she has in her mouth, but an artist that has crashed and burned at Eurovision needs to do everything to make headlines. If you are to reach out with your music, you often have to go to extreme measures, which in turn will sell more records." One thing's for sure, Stella Mwangi certainly is making headlines in Norway, but it remains to be seen whether this latest scandal will affect her fanbase and already waning popularity.