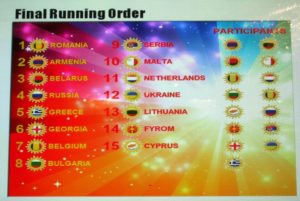 The Junior Eurovision Song Contest comes closer to rock Lemasos. The order in which the 15 songs will participate has been decided and Romania gets the challenge of opening the event.
This year's Junior Eurovision Song Contest is going to be held in Lemasos, Cyprus with this running order:
1. Romania
2. Armenia
3. Belarus
4. Russia
5. Greece
6. Georgia
7. Belgium
8. Bulgaria
9. Serbia
10. Malta
11. The Netherlands
12. Ukraine
13. Lithuania
14. FYR Macedonia
15. Cyprus
Azerbaijan was suppose take part as well, but they decided to withdraw after the deadline and as such have recieved a fine.
The fifteen singers and their songs are all confirmed too. Here are the list of the songs:
Armenia – Monika Manucharova – Im Ergi Hnchyune
Greece – Niki Yiannouchu – A Night
Lithuania – Eglė Jurgaitytė – Laiminga Diena
Belarus – Daria Nadina, Alina Molosh, Karina Zhukovich – Sertse Belarusi
Malta – Daniel Testa – Junior Swing
Belgium – Oliver – Shut Up
The Netherlands – Marissa – 1 Dag
Bulgaria – Krestiana Kresteva – Edna Mechta
Romania – Mădălina & Andrada – Salvaţi Planeta
Cyprus – Elena Mannouri & Charis Savva – Gioypi Gia
Russia – Mihail Puntov – Spit Angel
FYR Macedonia – Bobi Andonov – Prati Mi SMS
Serbia – Maja Mazic – Uvek Kad U Nebo Pobledam
Georgia – Bzikebi – Bzz…
Ukraine – Victoria Petryk – Matrosy