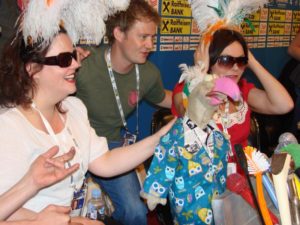 What was suppose to be the Irish press conference can best be described as a stand up show from their
representative, Dustin the Turkey. He entertained the full conference room with his funny comments. EuroVisionary offers you the full show on video.
A lot can, and has been, said about Dustin the Turkey, the doll that represents Ireland in the 2008 Eurovision Song Contest, but boring is not one of the words. The two Irish press conferences have offered what is more similar to a stand up comedy show than an introduction to the press. The 2nd of these shows took place on day 5, Thursday the 15th and via three videos below the full show can be seen.