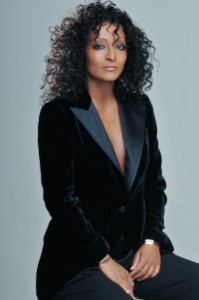 As the deadline for the submission of songs for the 2011 Eurovision Song Contest draws near, San Marino became the latest participant to reveal it's song. In a special programme broadcast tonight on SMRTV, Senit, who was chosen internally to represent the smallest nation in the contest, will sing Stand By, in Düsseldorf.
The short programme was presented by Emanuela Rossi from a studio and there didn't seem to be an audience present. She introduced Senit and started the interview by asking her about her involvement for San Marino. Senit said that to be asked was a very big surprise, but something she is very pleased to have the opportunity to do. Emanuela pointed out Senit's background, that she is of Eritrean origin, was born in the Italian city of Bologna and will sing in English in Düsseldorf. She asked her if her first musical experiences came for within or outside Italy. Senit replied that she started her career in Italy and is mainly influenced by Italian music, but takes inspiration from many sources.
Senit was a guest at the Azerbaijan final a few weeks ago, and she said it was a wonderful experience with kind people in a beautiful country. The video for Stand By was filmed partly in London and partly in San Marino. She said the video was shot in London because she had the opportunity to film on location at what she described as "a beautiful club."
After a short interview with one of Senit's backing singers, it was time for the premiere of the video for Stand By, a soft rock ballad, which you can watch below.
It seems that Senit'song,  like Miodio before her, is another attempt to keep away from the Italian style of music which may be expected of San Marino, in order to give the principality its own identity. 
Senit will perform in the first semi-final.