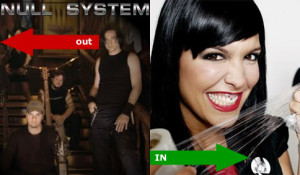 The selection in Spain has been hit by its first official scandal as one of the ten songs selected for the final has been disqualified. Fans are asking will this be the only one?
Fans have been reporting about plagiarism, voting fraud, songs being too political and now a chosen song has been kicked out as it has been aired before 1st of October 2007 and thereby is in conflict with EBU's rules.
The song Mourning that was to be performed by the group Null System was among the five songs selected by jury. Lorena C and her song Piensa Gay will replace it. She will join the 9 other chosen songs in the final on 8th of March, but fans speculate in whether or not this will be the only disqualification.
The line-up for the Spanish final as it is now:
| | | |
| --- | --- | --- |
| Rodolfo Chikilicuatre | Baila el ChikiChiki | Chosen by public |
| La Casa Azul | La revolución sexual | Chosen by public |
| Arkaitz | Un olé | Chosen by public |
| Coral | Todo está en tu mente | Chosen by public |
| Bizarre | Si pudiera | Chosen by public |
| Ell*as | 100% | Chosen by jury |
| Lorena C | Piensa Gay | Chosen by jury |
| Marzok Mangui | Caramelo | Chosen by jury |
| D-Vine | I do you | Chosen by jury |
| Innata | Me encanta bailar | Chosen by jury |
The disqualification in Spain comes right after some hectic days for the Romanian winning duo Nico & Vlad Mirita who were also accused of both comitting plaigiarism and having aired the song before the 1st of October. EuroVisionary investigated this case and found however that everything was in accordance to the rules.
Links