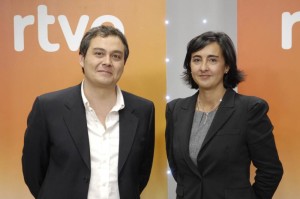 In less than a week participants can start to apply to represent Spain at the 2011 Eurovision Song Contest. Two auditions full of Eurovision music will help pick the best singers for the shows live on TV. Songwriters can submit their songs online up until the 12th of December.
When Spain kicks off its selection it happens in two parts. Songwriters can apply online while singers can go for one of the two open auditions that will be held in Madrid and Barcelona at the end of November. A professional jury will there send the best ones through to a second audition from where the singers for the live shows in January will be found. At the auditions the candidates will have to sing songs from the Eurovision Song Contest.
Participants must be of Spanish nationality or living legally in Spain while there is no restriction as to what language the songs are in. TVE mentions that it will not be made public before the live shows who have qualified.
In the final a jury and televoting combined with 50% each will choose the winner that will represent Spain at the 2011 Eurovision Song Contest in Düsseldorf, Germany.