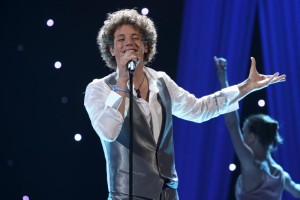 Daniel Diges second open rehearsal went fine. The only thing that seemed to be different from the first rehearsal was the man who joins Daniel on stage at the end of the song.
The rehearsal went fine. It looks & sounds good on the screens. It's exactly performed as in the first rehearsal with Daniel singing and with the four dancers in different poses around him and dancing around on the stage.
There is one notable change from the first rehearsal: A man joins Daniel to sing with him at the end of the song for about 30 seconds. He then rushes out again. Daniel sings about the little things and maybe it is the small tweaks in the performance like adding an extra singer that is the recipe that will lead to a good result for Spain.