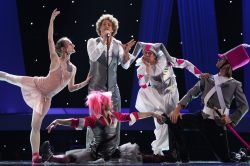 Daniel Diges powerful voice echoes through the arena as he performs the song Algo pequeñito.
The performance is very similar to the performance from the spanish final. It contains Daniel who is joined by four dancers who looks to be taken from a fairytale.
Peoples opinion about the song is very divided and so it is hard to predict how well it will do in the final. But everything worked well in this first performance and Daniel has a very powerful voice.