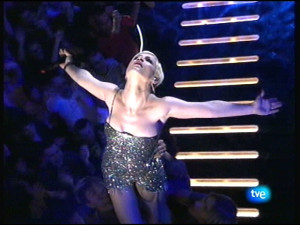 Spain had decided to move their national final forward and last night offered something as rare as a semi-final and a final in the same show. The show resulted in a tie between Soraya and Melody giving the first one the honour of going to Moscow due to televoters preferring her.
When Spanish broadcaster, TVE, announced that last night would have the third semi-final as scheduled, but also the second chance and the national final put into it many rightfully feared for a show that would last all night. TVE however gave the viewers a pleasant surprise when they managed to host a semi-final and a final; the second chance contest was dropped at the last moment, in shorter time than the first semi-final took.
These songs participated in the third semi-final:
Beatriz – Dónde Te Metes?
Remembrances- Espejismo
Biquini – Una Chica Normal
Julia Bermejo – Ya No Estás (to second chance contest)
Solydo – Tú
El Secreto De Álex – Por Esta Vez
Mirela – Nada Es Comparable A Ti (to final)
Isi – Ahora No (to final)
Santa Fe – Samba House (to final)
Dulce – Bésame
It should then have been time for the second chance contest, but suddenly one of the songs qualified for the final performed again. As the voting also started us non Spanish speakers were surprised until we realised that they had simply cancelled the second chance contest. Instead the three songs that finished fourth in their semi-final were put straight into the final consisting then of 12 songs.
The 12 songs performed in this running order:
La La Love You – Dame Un Beso
Noelia Cano – Cruza Los Dedos
Jorge Gonzalez – Si Yo Vengo A Enamorarte
Virginia – True Love
Salva Ortega – Lujuria
Gran Baobab – Despedida De Soltero
Santa Fe – Samba House
Melody – Amante De La Luna
Isi – Ahora No
Soraya – La Noche Es Para Mí
Mirela – Nada Es Comparable A Ti
Julia Bermejo – Ya No Estás
After the points from the jury as well as the televoters had been announced we had a tied first position. Would it be Melody or Soraya that would represent Spain at the 2009 Eurovision Song Contest? According to the Spanish rules the televoters decides in case of a tied first position and as Soraya received the highest amount of points from televoting she was declared the winner with the song La Noche Es Para Mí.
She will be representing Spain in Moscow where she will try to give the country a long desired first place. Spain won the Eurovision Song Contest in 1968 and again in 1969 where they shared the first position with three other countries., but hasn't done particular good in recent years with a 16th position as the best they have achieved in the past four years.