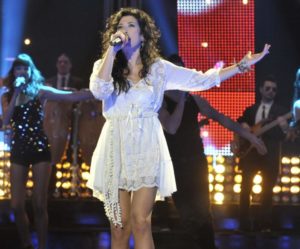 After three weeks and preselections, the Spanish final was held in Barcelona tonight. Among the 1,142 songs and 477 singers who aspired to represent Spain in Düsseldorf, finally Lucía Pérez will be the Spanish representative at the 2011 Eurovision Song Contest with the song Que Me Quiten Lo Bailao.
Three singers and nine songs had qualified for the final of Destino Eurovisión broadcasted by TVE-1. They were at the mercy of the Spanish audience, who voted for their favourite via phone and SMS.
The show started at 22:15 CET and it was hosted by Anne Igartiburu and co-hosted by last year's Spanish representative, Daniel Diges reporting from backstage where, for the occasion, there were the songwriters and the family of artists. Right at the beginning she introduced the expert jury who would have an important role because their decision would be to choose three songs among the nine candidates, one for each artist. The five-member jury was composed by the singers and songwriters Albert Hammond, David Ascanio and Sole Giménez (instead of Merche), Eurovision Song Contest expert Reyes del Amor and popular television personality Boris Izaguirre. Then, the candidates appeared on the stage and explained how was their week preparing the songs and we watched a brief summary of the demos that they recorded for the RTVE website.
The songs:
Song number 1: Melissa – Eos – Music and lyrics: Jesús Cañadilla and Alejandro de Pinedo.
It is a different song that could have an original staging in Düsseldorf. It remember the songs from the soundtracks of films with a mysterious and magical touch. The song begins as a ballad but then becomes a rhythmic track with the sound of the guitar and drums. The lyric is about Eos, the Titan goddess of the dawn in Greek mythology. With this song, she was be able to showcase her vocal qualities to perfection. She was singing on a platform that was located at the center of the stage and surrounded by three backing singers. She was wearing a white long and elegant evening dress. She knew how to follow the cameras with her eyes. Melissa's voice seemed very confident and powerful especially at the end of the song.
Song number 2: Auryn – Evangelyne – Music: Kjell Jennstig and Dejan Belgrenius. Lyrics: Kristin Molin.
This ballad is pleasant and features a nice and catchy chorus and a very melodic mood. But unfortunately it falls apart instrumentally I think, it does not have any catchy melodies that is accompanying the chorus or anything. Maybe it does not fit so good to the boy-band because they are too young and the song message is about a true and lasting love. I see no place in the Eurovision Song Contest for this kind of performance. In their performance tonight they managed to give the song their youthful touch with polyphonic vocals. Each member of the group could show their vocal skills. They were sitting in transparent chairs and they were dressed very elegantly in white, black and grey.
Song number 3: Lucía Pérez – Que Me Quiten Lo Bailao – Music and lyrics: Rafael Artesero Herrero.
The song has a nice Spanish rumba style filled with joy that the audience could really like. It is happy, simple, and it has a cool and Mediterranean rhythm. While you are listening to this track it transmits you good vibrations. It is a cheerful song that sums up the power that upbeat music can have over the mood of people. But it is not strong at all. The lyric is about how to make dreams come true and enjoy the good moments of life. She was dressed in a bright pink dress. Her voice is well suited to this song and she was always in tune.
Song number 4: Melissa – Sueños Rotos – Music and lyrics: Primoz Poglajen, Jonas Gladnikoff, Camilla Gottschalck and Christina Schiling.
It is a very melancholic ballad with a simple, clear yet warm sound and even a little sad. Melissa's vocals get a slight echo, accompanied by accentuated yet subdued bass and drums. She blows me away with her amazingly beautiful vocals on the chorus. The song spoke of a lack of love and dream of a new love. She was in a red dress.
Song number 5: Auryn – El Sol Brillará – Music and lyrics: Rafael de Alba
It is a very 60s song, cool and funny. I think it really suited them. It had a final crescendo where the boys can show the power of their harmonized voices. Good music and nice lyric which talk about forget the problems, be optimistic and keep going. It is a laid back song and easy to listen to. It was the most rhythmic and catchy song listened tonight. They were dressed in casual clothes with bright colours. They lacked sufficient strength in both the voices and the interpretation. Their voices sounded much better when they sang together than one by one.
Song number 6: Lucía Pérez – Abrázame – Music and lyrics: Antonio Sánchez-Ohlsson and Thomas G:Son.
It was one of the best options for the Eurovision Song Contest heard tonight although in its last 30 seconds it was a bit dull. It was a melodic song with a good arrangement and with a simple structure and Lucia's low register notes vocal. The more you listen the more you like it. It has a progressive high soaring vocal. The song fitted her like a velvet glove. She talked about the importance of a protective hug. She wore a brown dress and she felt confident on stage. There were five dancers wearing sunglasses that moved around the stage. Well sung!
Song number 7: Melissa – Diamonds – Music and lyrics: Nestor Geli, Susie Päivärinta, Pär Lönn.
It is a uptempo funk dance song with lots of drums and whistles. The melody is too similar to the classic songs from the Nordic countries in the Eurovision Song Contest. It had a great rhythm. The lyric is simple which I don't think matters in a dance song. It was about a girl who lived surrounded by luxury and she decided to leave everything for love. She showed us her most glamorous side. Melissa was dressed in a black dress and she also wore a pair of elegant black gloves and diamond bracelets. On stage also there were five dancers dressed in black wearing nice hats.
Song number 8: Auryn – Volver – Music and lyrics: Primoz Poglajen, Jonas Gladnikoff, Camilla Gottschalck and Christina Schiling.
This song gave me butterflies in my stomach. It was an emotional song. Pure feeling that gave me the chills. It is a deep ballad of little worth with an elegant melody which the European audience might like but it is not very original. The lyric is about memories of heartbreak. Among the three songs assigned to Auryn, this is the best suited to their voices and their style. Their harmonised voices meld beautifully and highlight this simple beautiful song with an amazing lead vocal performance. They were dressed in elegant dark jackets, dark trousers and white shirts.
Song number 9: Lucía Pérez – C'est La Vie! It's All Right – Music and lyrics: W&M, Nestor Geli, Susie Päivärinta, Per Andersson and Mats Lindberg.
It is a very interesting music style rarely seen in Eurovision, quite similar to cabaret. The song had some words in French and English that could be attractive for the European audience. The chorus was very catchy and easy to sing and enjoy by all. The tune is simple, not too high or too low. Lucía looks much more comfortable with this song than with the other two tracks. The five chairs choreography was very sensual and original but it hardly allowed Lucía to move freely. She was dressed in a shiny silver dress.
The show:
It was an amazing show, plenty of energy where we could enjoy a lot of talents.
The arrangements that were made to the songs sounded very different and better than in the demo videos uploaded a few days ago on the RTVE website and that was a pleasant surprise.
Each of the finalist singers performed a mix of three candidate tracks and, after that first performance, the judges eliminated two of the songs from each artist. The songs removed from this first heat were:
Melissa:
Eos: 14 points / Sueños Rotos: 11 points / Diamonds: 5 points
Auryn:
Evangelyne: 9 points / El Sol Brillará: 6 points / Volver: 15 points
Lucía Pérez:
Que Me Quiten Lo Bailao: 12 points / Abrázame: 12 points / C'est La Vie! It's All Right: 12 points.
Having a tie, there was controversy. Lucía said that her favourite song was Abrázame. The jurors took a few minutes to ponder the decision and, finally, they refused to change their votes and they decide that the finalist song should be Que Me Quiten Lo Bailao.
In this way, there was three songs associated with the three finalist artists were:
Eos for Melissa
Volver for Auryn
Que Me Quiten Lo Bailao for Lucía Pérez
Then, a short recap of the finalist entries and the voting lines were opened for 20 minutes. The audience had the last word while the finalist songs were performed once again on stage.
When the finalists had to discuss themselves, Melissa said that if she was the one to go to the Eurovision Song Contest, she will work hard to improve the song; Auryn said that they are too young but they could win the Eurovision Song Contest; and Lucía Perez said that her career has been very long and she wants to go to the Eurovision Song Contest because all Galicians living in Europe would vote for her and she also said that the jury should take more account of the views of the artists, referring to the tie.
As usual, we saw some humorous videos about why Spain does not win the Eurovision Song Contest, narrated by the Spanish journalist Javier Sardà. And, between a song and another and while public was televoting by their favourite artist we enjoyed four special performances:
Sole Giménez who is one of the top singers on the Spanish music scene and one of tonight jury members with a new version of the song Volando Voy.
Blue, this year's United Kingdom hopefuls, performed one of their big hits called Breathe Easy. They appreciated the applause of the audience and they said some words in Spanish. About their song for the Eurovision Song Contest they said that they only can say the title, I Can, and that it will be an anthemic pop song but they can not sing it in any other country until its premiere in the UK soon.
Daniel Diges, the 2010 Spanish representative, with a Spanish version of Robbie Williams's song Angel.
Albert Hammond who is a singer, songwriter, record producer and also one of the jury members with the song Entre Mis Recuerdos.
The results:
The most voted for the audience (68%) was Lucía Pérez who will be the Spanish representative in Düsseldorf with the song Que Me Quiten Lo Bailao composed by Rafael Artesero.
Lucía Pérez is twenty-five years old and she has been singing since she was a child. She has competed in some children's TV shows and music festivals being the Spanish representative in the 2006 Festival Viña del Mar in Chile with the song Qué Haría Contigo where she achieved second place. She has recorded four studio albums and, curiously, the last one is entirely in Galician.
About the composer, Rafael Artesero, he is a classic of Spanish selections. He composed La Reina De La Noche in 2007 and he was responsible for the 2005 and 2006 Andorran entries with La Mirada Interior and Sense Tu.