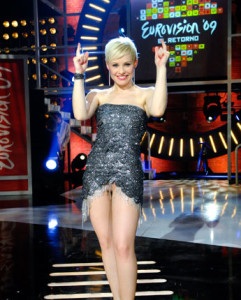 After winning the national final in Spain Soraya is now preparing for the Eurovision Song Contest in May, but tomorrow evening she will take time to answer questions from her fans. It will happen at the broadcaster's website and questions can be asked in both Spanish and English.  
It was a tied first position when Soraya won the Spanish final, but due to televoting it was clear that the honour of representing the country at the 2009 Eurovision Song Contest should go to her.
With two months left until Moscow she might get questions about what she will be doing in those two months, but maybe it is something completely different you want to ask her?
RTVE is inviting everyone to submit questions for her in either Spanish or English. This is your chance to get to know more about Soraya who will be trying to improve Rodolfo Chikilicuatre 16th positions from Belgrade. The country that is automatically qualified for the final of the Eurovision Song Contest due to the so-called Big4 rule hasn't finished in top five since Anabel Conde came second in 1995.
Soraya will be answering the questions tomorrow at 18:30 local time.
Links