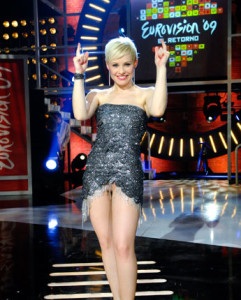 Today, Soraya's promotional tour dates have been released. She is starting the tour on 3rd April in her home country and the city of Madrid.
Soraya, who will represent Spain in Moscow on 16th May, will visit seven more countries afterwards.
Soraya's promo tour schedule;
April 3rd   – Meeting with Hadise in Madrid
April 17th – London
April 18th – Promotion in Belgium and Luxembourg
April 19th – Promo Concert in Amsterdam, Netherlands
April 21st and April 22nd – Greece
April 23rd – Romania
April 24th – Romania and Moldova
According to TVE, Soraya will sing her Eurovision song, La Noche Es Para Mi, on 28th March when Spain play Turkey in a World Cup qualifying game.