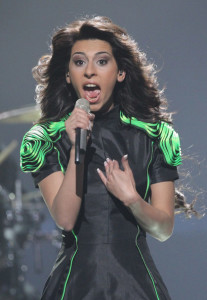 Sopho Toroshelidze, the Georgian voice who represented the Caucasian republic with Eldrine in Düsseldorf 2011, has been chosen by GPB to be the voting spokesperson of this year's Eurovision Song Contest.
The Georgian national public broadcaster has announced that the chosen person to announce the voting at the 2012 Eurovision will be Sopho Toroshelidze. Sopho will go back to Eurovision for the fourth year in a row due her experience in 2010 as a backing vocal and also her experience in 2011 as a leader of the Georgian band Eldrine. Back to 2009, she was the vocal teacher of Princesses, the group which represented Georgia in the Junior Eurovision Song Contest ranking at sixth position.
Sopho, with her band Eldrine, took Georgia to ninth position in last year's Eurovision final, being the best Georgian result in Eurovision.  She is an experienced singer with experience despite her age.  She has won many contests such as the International Junior Music Festival and Golden Eagle Festival among others. Sophio studied in Vano Sarajishvili Tbilisi State Conservatoire, department of Polyphonic Singing and Conducting.
Georgia will compete this year with Anri Jokhadze, who was a backing vocal in Belgrade 2008. This time, the Caucasian republic will compete with I'm A Joker at the second semi-final, which will take place at on 24 May. 
The Caucasian republic had it's premiere in 2007 with Sopho Khalvashi performing Visionary Dream ranking at 12th position. Georgia has always qualified to the final, last year's ninth position being their best ever result, and also in 2011 and 2010.