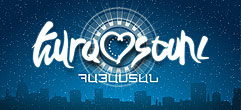 Armenian national broadcaster, ARMTV, has announced the dates of the national selections, performers and songs to represent their country at the Eurovision Song Contest this year.
Armenian broadcaster, ARMTV, has announced that the Armenian representative for the Eurovision Song Contest will be selected by a national final, as happened last year. In total, thirty songs have been submitted to ARMTV and only 10 acts were chosen to participate in the final. The song titles and performers have revealed as (singer – song title):
•    Another Story – Ays Dzmer / This Winter (lyrics & composer: A. Sargsyan)
•    Eva Rivas – Apricot Stone (lyrics: K. Kavaleryan -composer: A. Martirosyan)
•    Nick Egibyan – Countdown (lyrics & composer:N. Egibyan)
•    Emmy & Mihran – Hey (lyrics: M. Kirakosyan – composer: V. Ter-Yeghishyan)
•    David Ashotyan – Infected Dreams (lyrics & composer: D. Ashotyan)
•    Maria Kizirian – Little Red Riding Hood (lyrics & composer: M. Kizirian)
•    Razmik Amyan – My Love (lyrics: V. Zadoyan – composer: V. Petrosyan)
•    Sonya – Never (lyrics: K. Grigoryan – composer: S. Qatuzyan)
•    Ani Arzumanyan – The Mermaid Song (lyrics & composer: A. Narsisyan)
•    Meline Beglaryan – We Must Believe (lyrics & composer: M. Beglaryan)
There will be held a live show on 11th February to draw starting order of these participants and national final will be held on 14th February. The show will start at 20.00 CET. The winning song will be chosen via televoting and jury voting on a 50/50 basis. All the songs can be found by clicking here.
Armenia joined to the Eurovision Song Contest in 2006 for the first
time, and became one of the most successful countries in the contest
placing in top 10 up to now. Sisters Inga and Anush were the last
participants from Armenia at the Eurovision song Contest.