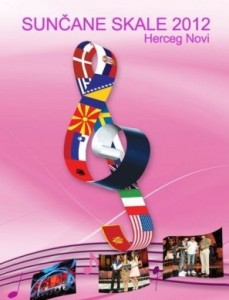 Sunčane Skale is one of the most popular music festivals in the Balkan region and the final will be held tonight with some former Eurovision artists among the participants. It will take place for the 18th time on the main square of Herceg Novi in Montenegro.
Yesterday evening, the contest was dedicated to the new stars of the regional music scene and the winner was Aleksandra Bilanović from Bosnia with the song Somewhere, gaining 85 points from the expert jury.
Tonight it will be time for artists from 19 countries who will be taking part. Among them we find some well-known faces such as:
Nuša Derenda who represented Slovenia at the 2001 Eurovision Song Contest with the song Energy and in 2005 she participated in Slovenian national final EMA with Noe, Noe ranking 4th. Tonight she will perform Za Nebo Ceno.
Ivana Martinović participated in the Serbian-Montenegrin national selection in 2005 with the song U Oku Tvom and tonight she will represent host country Montenegro singing Slobodna.
Glenys Vargas, Albanian backing vocalist from the 2010 Eurovision Song Contest in Juliana Pasha's performance, together with Kevin Ettienne, will represent the United States and the United Kingdom with the song called Love Me / Let Me Go.
Dani Dimitrovska participated in the Macedonian national final in 2000 with her song A nekogaš. Her candidate entry for winning tonight is Ne Pitaj.
Sunčane Skale will for the first time feature a representative from Norway: Rikke Normann. She is well-known for her participation at this year's Melodi Grand Prix. She will perform the song Fading Away.
Aleksandar Belov participated in the Macedonian national selection for the Eurovision Song Contest in 2009 and 2010 ranking 7th both times. Tonight he will perform Sve Je Lepše U Dvoje.
Magazin will sing Dušu Nemaš Da Me Na Njoj Nosiš, the same song they performed at Splitski Festival 2012 in Croatia a few days ago. They represented Croatia at the 1995 Eurovision Song Contest with Nostalgija sung together with Lidija Horvat-Dunjko. Current lead-singer Andrea Susnjara was one of the Croatian entrants in 2009 singing Lijepa Tena.
Andrej Ilić participated in the Serbian national finals in 2008 and 2009. In 2008 he performed Tijana with his band but they failed to qualify to the final but one year later he performed Nemam Te and finished 9th. His song for tonight is a summer hit called Sara.
Seyran Ismayilkhanov participated in the Azeri quarter-finals in 2011. His song for Sunčane Skale is called Let The Sun Shine.
Jade Davies tried to represent Austria at the 2005 Eurovision Song Contest performing two different songs and she ranked 9th with Just Like That and 10th with Perfect World. During the final of Sunčane Skale she will sing Love Crazy Girl.
Marcin Mroziński represented Poland at the 2010 Eurovision Song Contest first semi-final with the song Legenda. In the final of Sunčane Skale Festival he will perform Is That A Real Love.
Vlatko Ilievski represented Macedonia at the 2011 Eurovision Song Contest singing Rusinka but did not qualify to the final. Tonight he will sing Nema Me.
Martina Vrbos performed her song Ti I Ja at the Croatian national selection in 2010 but she did not qualify to the final evening. Tonight she will perform a party song called Na Kraju Grada.
Sunčane Skale 2012 will be broadcast live by RTCG (Montenegro), BHRT (Bosnia and Herzegovina), CMC (Croatia), NET (Slovenia), ALFA (Macedonia), PINK, DM Sat, Svet Plus, Kopernikus (Serbia) and Balkanika (Bulgaria) starting at 21:00 CET.