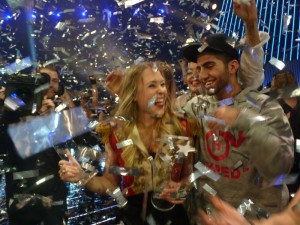 In a show that reminded more of a dress rehearsal for the Eurovision Song Contest 2013 than a Dansk Melodi Grand Prix Denmark tonight picked its participant for the international contest in May. Soluna Samay won the ticket to Baku in a close race.
DR, the Danish broadcaster, have wanted to bring the Dansk Melodi Grand Prix up-to-date. The participating songs had been selected based on that they matched with the newer music you hear on the radio. And if DR in recent years have been talking a lot about winning the Eurovision Song Contest it was nothing towards what we saw tonight. Only can only hope that Denmark won't be hit by nemesis in Azerbaijan.
In general this year's Dansk Melodi Grand Prix had a clear resemblence to the Eurovision Song Contest – so much that it stroke you that DR was using this year's national final as a dress rehearsal for that international show they DO insist on hosting next year.
Beforehand this year's Danish final looked to be a close race between two of the participating songs; song nr. 1 Take Our Hearts by Jesper Nohrstedt and song nr. 10 Venter by Christian Brøns & Patrik Isaksson. 6 out of 10 times song nr. 10 have won the Dansk Melodi Grand Prix and question was if the same thing would happen again? 
The songs:
As song number 2 had been disqualified only 9 songs left in the running to represent Denmark at the 2012 Eurovision Song Contest. You can read more about the participants in our Get To Know article. 
1. Jesper – Take Our Hearts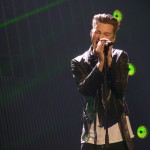 Jesper starts out sitting at a piano, before he gets up and start moving towards a microphone stand placed at the front of the stage. He often uses his hands to form the symbol of this song; a heart – something the audience have also been given beforehand. He is dressed in black trousers, a white t-shirt and an open black leather jacket. He is just 17 years old and they have not tried to make him look any older either. During the chorus the stage and most of the hall turns into a green laser show.
3. Aya – Best Thing I Got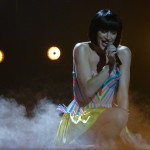 Haircut wise Aya reminds a bit of the Austrian Nadine Beiler from last year's Eurovision Song Contest, but her outfit leaves no comparison. Aya is dressed in a short dress contaiting a yellow miniskirt and a pink and blue strapless top made of straws glued on to the yellow fabric underneath. She is alone on stage and during the song she gets down on her knees at the front of the stage. Throughout the song she uses smoke on the stage, which is mainly kept in orange and yellow colours for this song. 
4. Kenneth Potempa – Reach For the Sky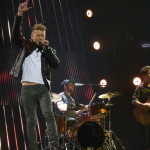 The first two participants have been alone on stage, but Kenneth Potempa has decided to be backed by a small band; a drummer and a guitar player. As the only one tonight Kenneth uses the available podium in the middle of the hall. There is no runway so he has to step off the stage, walk down the hall and then step on to the podium. Kenneth is dressed casual in tight dark grey jeans, a white t-shirt and an open leather jacket in black with a red strip across the chest and down the arms. As he is standing on the middle podium the audience are blowing soap bobles at him, something they had of course been instructed about beforehand.   
5. Ditte Marie – Overflow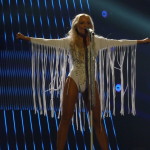 One not dressed casual is last year's Danish finalist Ditte Marie. Tonight she was wearing a white body stocking with long sleves and ruffles having down the sleves. At the front of the body stocking Ditte Marie has what appears to be paper clips. She is wearing skin coloured boots with high heels. Despite participating without her band, Le Freak, this year she still has two drummers behind her placed on each side of the stage. During this song the audience have been giving small lights which they are using – and near the end of the song smoke is blown up like pyrotehnics.  
6. Philip Halloun & Emelia – Baby Love Me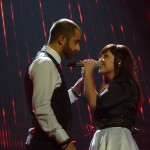 Philip & Emilia starts out sitting at each their piano faced towards each other. Emilia is dressed in a long white silk skirt and a black top. Philip is also classic dressed in his black trousers and west over a white t-shirt. About half way through a surprise happens as their doppelgangers enters the stage. These two take their Philip and Emilia's seats at their piano and the two real ones get up and move towards the front of the stage where they meet each other. Looking into each other's eyes they meet in an emotional moment where you are wondering if they will end like the Danish 1957 entry; with a kiss.  
7. Suriya – Forever I B Young
So far none of the participants have used dancers on stage, but Suriya does. She herself is dressed in a tight short black leather dress and a golden tie hanging lose. The dress is strapless showing her many tatooes. To match those her two female dancers, also dressed in black, have quite some make-up on. With their red paint in the face and on their chest they almost look Indian.   
8. Karen Viuff – Universe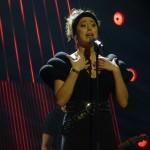 Karen is only 17 years old, like Jesper, but where he was not dressed to look older Karen is. She is wearing a black dress, which is tight around the legs, but loser at the top where the oversized short sleves reminds of comfortable pillows – or is an airbag or a space dress with shoulderpats? To add a bit of contrast she has a belt with sparks around the waist. Her hair is put up around a black hair band. This is probably the only thing, which matches with her age as the dress does not look like what a 17 year old girl would be wearing. Karen has a pianoplayer and a guitarplayer with her on stage. The audience have been given light rings, which they are holding up to show the universe – the stage is kept in red. 
9. Soluna Samay – Should've Known Better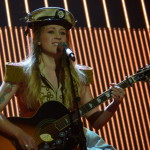 At the Eurovision Song Contest there is a rule saying max. 6 on stage per act and that is exactly the number of people we see for the 8th act with start number 9. In the left side of the stage we find first a piano player, then two female backing singers sitting on a red sofa, Soluna in the middle with a guy on floor bas behind her and a drummer on ther right side. Soluna is dressed in black trousers, a golden uniform top with a matching hat – and then she has a guitar with her. Near the end of the song confetti looking like autumn leaves falls down from above, a closer look at them show that they are actually shaped as butterflies.
10. Christian Brøns & Patrik Isaksson – Venter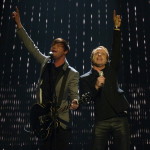 The last participating song tonight is a duet sung in Danish and Swedish. Christian has as the only one this year chosen to sing in Danish and Patrik brings for the first time the Swedish language into a Dansk Melodi Grand Prix song. They start standing a few meters apart in front of each their microphone and Christian has a guitar with him. Later in the song they walk a bit around and also meet each other. Christian is dressed in black trousers, a black shirt and an open light grey jacket which is black on the inside. Patrik is dressed in black leather trousers, a white t-shirt and a dark blue jacket. Through the entire song they use smoke on the stage. near the end of the song confetti falls over the stage and the audience.  
The show:
The 2012 Dansk Melodi Grand Prix offered plenty of entertainment. As it is quite common in Denmark then we start out with Te Deum in a unusual version. This time in a club mix version.
The hosts starts out saying "Good Evening, Europe" just because that is how it is done at the Eurovision Song Contest – and this year's winner in Baku, Azerbaijan is participating here in Aalborg here tonight. For the first time there is a commentator boot at the Danish final – and in that, Ole Tøpholm, DR's commentator from the 2011 Eurovision Song Contest, had his seat tonight – again, because that is how you do it at the Eurovision Song Contest.
Throughout the show there was shown clips from the four countries, that are in function as international jury. As international juries DR have picked the last four Eurovision Song Contest winning countries: Russia, Norway, Germany and Azerbaijan. The focus on these countries was made in the way that they told the country's history at the Eurovision Song Contest with a few clips from previous entries – and then showed clips from what is popular on the charts in the country. In the case of Norway DR's reporter went to Oslo to talk to Per Sundness, former host of Norwegian national finals and national commentator. The topic was why Norway's results vary so much as Norway have won the Eurovision Song Contest three times, but also gotten zero points more than any other country. 
To match Norway's many zero points they later on in the show show clips from other Eurovision Song Contest entries that also managed to end without any points at the international contest. Right after this all the participants for next weekend's MGP, the Danish junior show, goes on stage singing a song together. That show will take place at the same stage here in Gigantium as is in use tonight.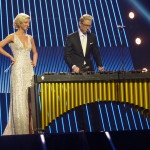 One theme that kept through the entire show was the musicality of the male host; Emil Thorup. He proved that he do know how to handle various instruments. At some point he played Dansevise (The Danish 1963 winner) on the flute, he also pushed a large maremba on stage where he played Ding A Dong (The Dutch 1975 winner) not to mention that he played Fairytale on the violin. Emil says that he plays 17 instruments, 12 of them perfect. For him it is only normal where as Louise thinks he is too much of a geek. A pre recording of Emil and Louise giving it like Herreys (Sweden's 1984 Eurovision Song Contest winner) was shown on the screens.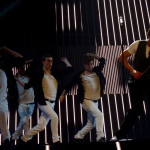 Alexander Rybak, the 2009 Eurovision Song Song Contest winner, went on stage for a Eurovision Song Contest medley including songs like Fly On The Wings Of Love, Hold Me Now, Satelite, Hard Rock Hallelujah and of course also Fairytale – and a few more as well. Alexander was backed on stage by first 8 male dancers and later one female one.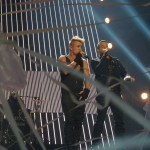 Just before the winner was announced last year's Dansk Melodi Grand Prix winners, A Friend In London entered the stage to sing their entry New Tomorrow. This version was a slightly bit different though as Backstreet Boys' Howie D. joined them on stage about half way through the song where plenty of white flags were used on stage – and long white straps fell on the audience and to the floor that was already covered in plenty of confetti.  
The voting: 
After all 9 songs had been performed once and seen in recap it was time for the first voting. In this round a Danish expert jury consisting of DJ and producer Kenneth Bager, the two singers Søs Fernger and Freja Loeb, rock band D.A.D's drummer Laust Sonne and radio music boss Lars Trillingsgaard got to decide 50%, while the TV viewers decided the other half. Together they would select three songs to continue to the final round.

Through to the final round are (In random order):
– Song nr. 1: Take Our Hearts by Jesper Nohrstedt
– Song nr. 10: Venter by Christian Brøns & Patrik Isaksson
– Song nr. 9: Should've Known Better by Soluna Samay
As all three songs are invited on a wildcard it will now for the first time be a wildcard song winning Dansk Melodi Grand Prix. 
For the first time ever other countries will have influence on the Danish result. The international jury came in play for the second round where they were to award the three songs in the final round with 8, 10 and 12 points. The voting was here done in Eurovision Song Contest style with calling up the countries where their spokesperson would then be ready to announce how they had voted. You can read more about who was in which jury in our previous article.

The points from the international jury:
Norway: 8 points to song nr. 10, 10 points to song nr. 9 and 12 points to song nr. 1
Germany: 8 points to song nr. 10, 10 points to song nr. 9 and 12 points to song nr. 1
Azerbaijan: 8 points to song nr. 10, 10 points to song nr. 1 and 12 points to song nr. 9
Russia: 8 points to song nr. 10, 10 points to song nr. 9 and 12 points to song nr. 1
And the winner is…… Soluna Samay! Jesper came second and Christian Brøns and Patrik Isaksson third. 
The winning song is written by Remée who co-wrote the German 2008 entry Disappear and Chief 1 one wrote the Danish 1997 entry Stemmen I Mit Liv.