Things are hotting up in chilly Reykjavík with the countdown well and truly underway for Saturday's first semi final in Söngvakeppnin. Iceland have been surfing on a positive trend for the last six years, qualifying for the final every time since 2008. Who will be the successor to Eyþór Ingi? Come take a closer look at the first five candidates.
Big isn't necessarily always beautiful, as Iceland proves time after time with their national finals. They hardly ever disappoint in terms of variety and this year is no exception. While we're waiting for hosts Ragnhildur Steinunn Jónsdóttir and Guðrún Dís Emilsdóttir to utter the magic words "Goða kvöldið, Ísland!", let's take a closer look at the first five contenders in this year's edition of Söngvakeppnin.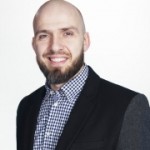 1. Sverrir Bergmann – Dönsum burtu blús (Dance away the blues) (T & M: Pálmi Ragnar Ásgeirsson, Ásgeir Orri Ásgeirsson, Sæþór Kristjánsson)
Sverrir Bergmann Magnússon was born on the 13th of November, 1980 in the Northern Icelandic village of Sauðárkrókur. He has previously studied at the Fjölbrautaskóla Norðurlands, a vocational study institute in Northern Iceland as well as having graduated from the Technical College of Iceland. He first took to the stage to perform in public at the annual festival at high school, where he performed the Bryan Adams song Heaven. He was thrust into the limelight in 2000, when he participated in the Icelandic Secondary School Song Contest which he took by storm and won with the song Án þín (Without You). His debut album was released last year, entitled Fallið Lauf (Fallen leaf). Prior to his first album, Sverrir has also recorded and released music with the band Daysleeper and has composed over 70 songs together with other musicians.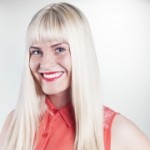 2. Greta Mjöll Samúelsdóttir – Eftir eitt lag (After one song)  (T:Bergrún Íris Sævarsdóttir / M: Ásta Björg Björgvinsdóttir) 
Greta Mjöll Samúelsdóttir was born on the 5th of September, 1987 in the town of Kópavogur, not far from the capital. Music isn't Greta's bread and butter – after having graduated as a media researcher from the University of Boston in the United States, she has worked on the Icelandic childrens' series Lazytown, which has become something of a global success. She was however inspired by music from a very early age, with fond memories of the 1991 Icelandic entry Draumur um Nínu, learning the lyrics by heart to perform the song in a singing competition. Her first public performance wasn't the hit she had hoped for, but that didn't stop her. Football crazy Greta took part in the Icelandic Secondary School Song Contest in 2006, coming in second place. Friends and composers of Greta's entry Bergrún Íris Sævarsdóttir and Ásta Björg Björgvinsdóttir are said to have had her in mind as performer as soon as they'd written the song and having someone else sing it wasn't an option. Good for them then that Greta agreed to participate in Söngvakeppnin!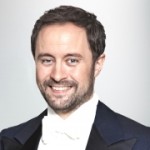 3. Gissur Páll Gissurarson – Von (Hope)  (T & M: Jóhann Helgason) 
Tenor Gissur Páll Gissurarson came into the world on the 16th of February, 1977. At the age of twelve, while performing with the Kársness school choir, he landed a role in the National Theatre production of Oliver Twist. This was just the start of a long and illustrious career in singing. He began to study song at the Reykjavík Academy of Singing and Vocal Arts before continuing his studies at the Music Conservatory of Bologna, Italy from 2001 to 2005. He gave his first concerts in his native Iceland in late 2006 which were met with an overwhelming response. The same year he took part in a song contest in Brescia where he won two prizes. He has since then performed in a wide range of operatic productions in Germany, Iceland and Italy. His talents have also led him to Japan, where he performed on Iceland's behalf at the EXPO exhibition in Nagoya. His first solo album Ideale appeared in 2010, containing a mixture of Italian and Icelandic songs.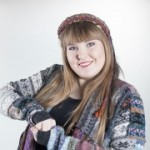 4. Ásdís María Viðarsdóttir – Amor (Love) (T & M: Haukur Johnson)
Ásdís María Viðarsdóttir was born on the 24th of August 1993 and was raised in Breiðholt on the outskirts of Reykjavík. She is a busy girl; the twenty year old currently holds down two jobs- working in a store and as a bartender at a restaurant. She first took to the stage at a very young age, performing a well known childrens' song which she seems to remember was a big hit with the audience. She cites  Law & Order: Special Victims Unit as her favourite TV show. Ásdís describes herself as rather impulsive, sociable and larger than life, all qualities that will certainly come in handy when taking part in Söngvakeppnin!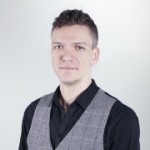 5. Vignir Snær Vigfússon – Elsku þú (Dear you) (T: Þórunn Erna Clausen / M: Vignir Snær Vigfússon)
Singer and musician Vignir Snær, is 34 years old and a family man. He lives with his wife Þorbjörg and their three sons in Reykjavík. He is a well known figure in the Icelandic music industry, having performed in many plays, musicals and TV programmes. He completed eighth level classic guitar in 2000 alongside studying the piano. He grew up in the tiny village of Kirkjubæjarklaustur in the south of Iceland where he began performing with various bands from the age of eleven. He founded the succesful group Írafár with friends in 1998 and they enjoyed nationwide fame for seven years. He played guitar with the band as well as providing additional vocals. Írafár released three albums, selling approximately 40,000 copies – quite an accomplishment in Iceland. He has previously taken part in Söngvakeppnin, both as a performer, composer and songwriter – he was a member of the group Sjonni's Friends who represented Iceland at the 2011 contest with the entry Coming Home. He also jointly composed Selma's 2005 entry If I Had Your Love, so you could say said that Vignir Snær has seen Eurovision from all sides.
You might also like to read: