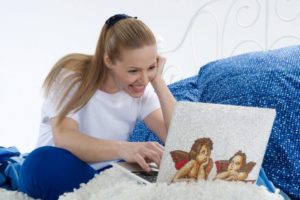 Today, the last song presentation of the season was once again held in San Marino. The representative name Valentina Monetta brought the same song with the new lyrics, The Social Network Song.
The first song presentation in San Marino was held last friday, but the Reference Group of the European Broadcasting Union concluded that the song Facebook Uh Oh Oh was containing a commercial brand which was unacceptable due to the point 1.2.2.g of the Rules of the 2012 Eurovision Song Contest: " The lyrics and/or performance of the songs shall not bring the Shows, the ESC as such or the EBU into disrepute. No lyrics, speeches, gestures of a political or similar nature shall be permitted during the ESC. No swearing or other unacceptable language shall be allowed in the lyrics or in the performances of the songs. No commercial messages of any kind shall be allowed. A breach of this rule may result in disqualification. " Then another song or change of lyrics was requested from Sammarinese broadcaster SMR TV which resulted in the decision of holding another song presentation.
Tonight, Valentina Monetta, who was selected internally by the broadcaster, presented her participating entry once again. It was unknown till the start of the presentation show if they will come up with a different song or the same one, just with new lyrics, but later everyone found out it was the same song with a new version of the lyrics, The Social Network Song.
In the song, there are the words "Hello uh oh oh, Uh oh oh, Beep Beep Uh oh oh, The Social Network uh oh oh" used instead of Facebook Uh oh oh where the rest of the lyrics stayed the same. Below you can watch the official preview video of Valentina's participating entry: