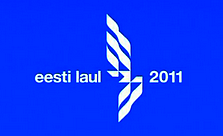 The starting field for the two semi finals of this year's Eesti Laul had slightly to be changed. The song Meeting the wolf by the performer Janne Saar who also wrote this song together with Carola Madis had to be disqualified.
As the Estonian television ERR found out this song was published before September 1st, 2010, so it had to be replaced. The new entry in the semi finals' line-up is called Second chance and will be sung by Tiiu Kiik who already participated in last year's Eesti Laul.
The two semi finals will take place on February 12th and February 19th, 2011. Ten songs will proceed to the final which will be held on February 26th, 2011. The winner and Estonian representative in Düsseldorf will finally be determined by televoting.