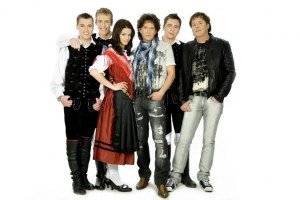 Today Slovenia had their first rehersal in the Telenor Arena in Oslo. They will participate in second semi-final, and their rehersals started on a sunny and warm day.
There were six of them on the stage, performing a song which is mix of Slovenian folk and rock. We have an accordian player, two guitars, contrabass, as well as the female and male singer. The stage had them in his costumes in natural colours, or white spotlights. Its starts with rock music and folk lyrics. 
They had like everyone a few rehersals, consulting with the team and director on what moves they should make, where the edges of a stage were, how should they look, and many other things.
They were singing in their native language, Slovene. There were not many special highlights in the song, except the interesting combinations of the two different music styles.