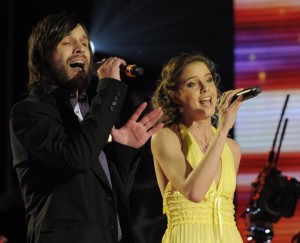 Slovakia was finally returning to the Eurovision fold after a gap of some 11 years.  To celebrate this, they arranged a lavish selection process of five semi-finals with a final of 16 songs.
Martin 'Pyco' Rausch was our genial host, after previously hosting Slovensko Hľadá Superstar.  STV's Martin Kontúr was a reporter in the Green Room.  The final was held in STV's Studio 4 in Bratislava.  With a standing audience of dedicated fans, along with a scattering of ambassadors, it promised to be a fun show.
The format was basically the same as the semi-finals.  The Slovak public would vote by SMS, starting at the beginning of the programme.  Pyco would give regular updates of how they were all doing.  After a brief interval, the results would be announced in reverse order.  The seven-person jury would then pick one of the top 3 to send to Moscow.  With pre-competition favourites Desmod withdrawing, the contest was likely to be more open
1.    VIP – Hviezdy (Stars)
These rockers are popular bunnies in their homeland as it showed in the audience, as we started off to rock.  This is one of the styles of music Slovakia does best, and got the crowd fired up and wanting more.
2.    Andrea Zimanyiová – Prines si ten kľúč ( Bring you the key)
Our first big ballad of the night belonged to Andrea in her big dress.  This won the first heat, and again she had her fair share of fans in the audience.  You knew that she'd always give a class performance, and this was no exception.  However, the responsibility of performing second has been many a decent song's downfall.
3.    Robo Šimko and Massriot – Môj anjel spí (My angel sleeps)
Robo wrote this song himself, another in the typical rock ballad style.  They performed this well, and the crowd enjoyed the brief appearance of the awoken angel whom he'd been singing about.  Maybe not right for a May night in Moscow, but in the mosh pit of the audience, there was many a fan.
4.    Zachariás Hubaček – Bolo bolo (It was, it was)
The jury's choice from the 4th semi-final was the very un-Slovak R&B sound.  With his influences including Justin Timberlake, you knew what you were going to get.  He also acknowledged that part of his look was down to Dima Bilan. 
5.    Martina Schindlerová – Krídla (Wings)
Classy ballad time again.  Martina had finished runner-up in Slovensko Hľadá Superstar a few years ago, and was still well thought of.  This had won semi-final 4, and was a favourite in a cigarette-lighter-waving sort of way.  This seemed to go down with the crowd better that Andrea Z's earlier ballad.
6.    Mukatado – Ja sa mám (I am)
A large contingent had been drafted in to cheer this very pleasant catchy song.  It really stood out, and many of us wondered why it didn't qualify directly for the final.  It was different from everything that had gone before, with slight ethnic elements.  We all knew it was going to do well.  Mukatado, we are told, is either a Roma word, a type of sugar cane, or what a Slovak child calls an aeroplane!
7.    Tomáš Bezdeda – Každý a nás (Everyone)
Local favourite Tomáš came on next.  Like Martina, he had come through Slovensko Hľadá Superstar, narrowly finishing third.  But he'd since gone onto the Slovak equivalent of Strictly Come Dancing and had done a lot of other TV work too.  He was already a close second in the televote, so was likely to take the lead after he'd sung.  The crowd rocked away to this Manic Street Preachers-inspired song, as did the expert jury.  And the Mukatado fan stood in the crowd next to the writer acknowledged that this was the best so far.
8.    Robo Opatovsky – Prší (It rains)
It rains, sang the runaway winner of the third semi-final.  Tonight, however, this song seemed to get a little lost among the crowd.  Robo had an odd look about him, sort of like someone newly released.  But we never thought it would even make the final, so anything could happen.
9.    Smola a hrusky – Na com zaleží (What's it all about?)
Smola a hrusky, from the eastern town of Spišská Nova Ves were the wild cards benefiting from Desmod's withdrawal.  These guys were here to have fun, and performed in a style vaguely reminiscent of Andorra's Anonymous.  The younger members of the audience certainly were impressed, and the trumpet introduction was a memorable touch.
10.    Peter Bažík & Andrea Súlovská – Nebudem stáť (I will not stand for this)
Our first duet, written by Peter, had its charm, but didn't really hit the spot with many.  Another ballad a few songs away was likely to win over more fans.  They still performed it very well though.
11.    Janais – Ta ram ta rej
Janais also had many fans in the audience, judging by the banners scattered around.  Completely different to everything before, many hoped that this would carry the flag to Moscow.  Jana wrote this herself, and is a very prolific songwriter, with an album due for release soon.  She didn't expect to win, and was slightly surprised to be in the final.  The low finish puzzled many, but she assured the writer that she would try again.
12.    Mária Čírová – Búrka (The storm)
María's style reminded us a little of Beverley Craven, even to the extent of accompanying herself on the piano.  Among all of the other ballads being performed tonight, it might get a little lost.  But she still earned herself a big reception.
13.    Kamil Mikulčik & Nela Pocisková – Leť tmou (Let darkness)
The pre-competition favourites were next on.  Kamil and Nela had, until recently, been onscreen lovers on one of Slovakia's top drama series.  Kamil's fiancée assured us that this was only an onscreen romance.  Ironically, they'd just split up on the show.  Classy ballad time again, and this even included dinner-suited pianist and cellist.  Not surprisingly, after a perfect performance, the SMS share of the vote jumps to push Tomáš Bezdeda into a distant second place.  The writer's only concern was whether the votes were as a result of the song or their profile.
14.    Michal Chrenko – Proti prúdom (Upstream)
Michal sang about trying to swim upstream and not succeeding.  Performing after Kamil and Nela was never going to be easy, and he was also the jury choice from the 5th semi-final.  This didn't really have much going in its favour, apart from the big candle-strewn piano.  His SMS voting never really took off.
15.    Kamojota – 7 noci (7 nights)
Kamojota have a new album out in Slovakia, and the full version of this song runs to over 4 minutes.  With the three-minute time constraint, it was always going to lose a little in compression.  It went down well in certain areas of the audience, and a Coldplay-style piano instrumental was good, but it wasn't quite right.
16.    Samo Tomeček & Free Inna Cage – To čo chceš (What do you want?)
We ended with another alumnus of Slovensko Hľadá Superstar.  The postcard went to his old school, somewhere he'd obviously left not long ago.  So much so, most of the children in the crowd wanted him to win.  Many had even printed Samo posters, showing him singing among the various famous buildings of Moscow.  However, it was just a little too downbeat in a rock ballad way to impress the SMS-voting public.
After the 16 performances, we were treated to a brief reprise of the 16 songs, as the televoting hadn't yet finished.  The interval consisted of two acts we will be seeing in Moscow.  The Czech song at Eurovision will be one of two songs performed by Gipsy.cz, and they performed 'Aven romale'.  Gipsy himself, also known as Radoslav Banga, dressed at Supergipsy, in a very memorable performance involving violins, and a Freddie Mercury-style showmanship, that could do well in Moscow.
Next up were Aysel & Arash.  As they'd only fully revealed their song last week, and there were potentially more high profile finals over the weekend, for STV to secure them was a bit of a coup.  Aysel & Arash had earlier been interviewed by Martin K in the green room, giving a bit of background on them getting together.  So what did we make of the first live performance of "Always"? It was done very well, and with help from some of Ruslana's backing dancers got the crowd going.  There is also some chemistry between the two singers, and this came over very well.  Judging by this performance, Azerbaijan could well be a country to watch in May.
Finally, we came down to the results.  One representative of each of the 16 acts was called up on stage.  For the male/female duets, it was noticeable that the men came on stage.  Pyco announced the results in reverse order as their percentage of the vote came up on screen.  The final three were Kamil & Nela, Tomáš and Mukatado, which surprised nobody.  But who would get the ticket to Moscow?  By quite a margin, Kamil & Nela won the public vote, scoring some 10 percentage points more than second.
At this stage, the head of the jury and talent show judge à la Simon Cowell, Laco Lučenič, came on stage.  Unsurprisingly, the jury decision also went the way of the public vote, thus sending Kamil & Nela to Moscow.
This is the first ballad-duet to make it to Moscow, which could work in its favour.  It worked to some extent for Romanian balladeers Monica & Marcel, and Nico & Vlad, so a finalist spot for Slovakia is not out of the question.  They have said that at least part of the song will be re-written in English.
Many thanks to John Stanton and Ian Fowell for providing this article
Links