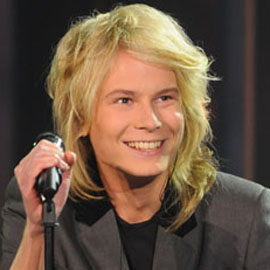 After its confirmation to participate at the Eurovision Song Contest next year, the national Slovak broadcaster RTVS today announced its representative internally. 22 year old Miro has been chosen after he offered to fund the participation himself as the broadcaster was considering pulling out.
As the season for national finals are slowly starting, Slovakia is the first country who is ready to start waving its flag in Baku next year. Today the public broadcaster RTVS officially announced their participant. Miro Šmajda has been chosen as the lucky one.
The broadcaster also announced that they had considered not to participate at the Eurovision Song Contest next year due to economical problems, but Miro's offer to fund Slovakia's participation himself was too good to turn down. Slovakia has never managed to qualify for the final of the Eurovision Song Contest, which they returned to in 2009 after an absence of 11 years. The broadcaster however added that they do want to participate at the contest as much as their budget allows. 
22 years old Miro is considered to be one of the very best in the Slovak music database after coming second in the pop-idol contest in 2009. Below you can watch one of his songs Baby or you can visit his official webpage.