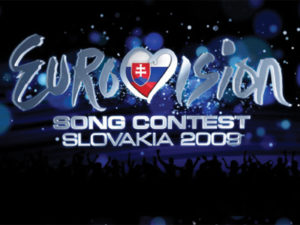 This evening, STV broadcast the first of five semifinals to find the first Slovakian entry for the Eurovision Song Contest since 1998. By the end of the evening, three songs would have qualified.
Opening proceedings was a band called Alone singing Nezistí. The four members of the band performed a rock song to give the evening a good start.
Next was a female singer, Petra Kepeňová singing Odkedy Nie Si. This is another rock song. The vocals were good but did sound slightly hollow.
Nádej Máme was sung by Robo Papp and slowed things down a bit. It's a melodic ballad which builds well for the chorus, but is labouring a bit towards the end.
The fourth song of the evening is another rock song, Násili, performed by five-piece band, EmSoft. It is let down by a slightly weak vocal.
Peter Kotuľa was up next to sing Cesty Sú Stratené, a soft ballad. It would be fair to say that Peter isn't the best singer in the world. He is joined on stage by five female dancers.
They clearly like their rock music in Slovakia as VIP (no, not the 1997 Hungarians) are another rock band. Their song, Hviezdy is almost a ballad in places and up-tempo in others.
Andrea Zimányiová should have kept it simple but effective for her ballad, Prines Si Ten Kľúč. However, beside her on stage was an ariel acrobat who fortunately was almost ignored by the director.
It's time to rock again, even if Môj Anjel Spí, sung by Robo Šimko & MassRiot is a rock ballad rather than the out and out rock songs preceding it. If it had been earlier in the running order, it might have been forgotten, but as it's on near the end, it stood a chance of qualifying.
Hudba z Marsu perform Na Hubách with more than a hint of humour. They are supported on stage by three ladies in traditional Slovak costume.
There should have been a tenth song performed by Desmod & Lucia Nováková, but they were unable to perform due to an accident in rehearsals.
Two of the three finalists would be decided by a public vote, the third by an expert jury. The results of the public vote were:
1st)  Andrea Zimányiová – Prines Si Ten Kľúč
2nd) Robo Šimko & MassRiot – Môj Anjel Spí
3rd)  Petra Kepeňová – Odkedy Nie Si
4th)  Hudba z Marsu – Na Hubách
5th)  Peter Kotuľa – Cesty Sú Stratené
6th)  Alone – Nezistím
7th)  Robo Papp – Nádej Máme
8th)  EmSoft – Násilie
9th)  VIP – Hviezdy

The jury chose VIP, who was last in the public vote.
Links