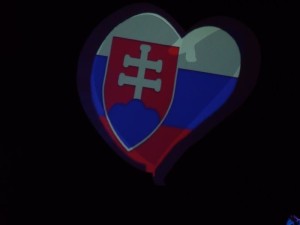 Slovakia has announced details of its preparations for Oslo.
Slovak national broadcaster STV has announced further plans for its selection process for Oslo 2010.  Back in September, they announced a deadline of 31 October for submission of songs.  Now that deadline has passed, a jury will narrow down the field. The best songs will undergo three preliminary rounds, followed by a semi-final and final. 
The televised shows will start in mid-January 2010. STV's rules for the songs included a restriction on writers having Slovak citizenship, although other people involved could come from abroad.  Each writer will have no more than one song in the televised stages.  Songs can also be in any language, although it is thought either Slovak or English will be those of choice.
Slovakia was represented in Moscow by Kamil Mikulčík & Nela Pocisková, who finished 18th in the second semi-final with the duet 'Leť tmou', which you can see below.