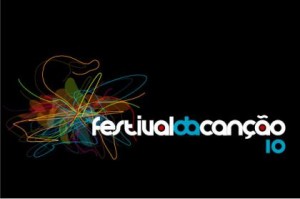 Tonight the second semi-final of Festival da Cançã, the Portugese national selection was held. A total of 12 participants competed for six spots in the final on Saturday.
The second semi-final was hosted by Sílvia Alberto, who also was in charge of the first semi-final two days ago.
The show opened with a performance from Simone de Oliveira who. She represented Portugal in 1965 and 1969 at the Eurovision song contest. 
The participants:
1. Rui Nova – Uma canção à Cid (O sol e as estrelas) (Rui Nova, Noé Gavina)
This is a ballad song. There are four backing singers. The stage is red.
2.Ricardo Martins – Caminheiro de mim (Ricardo Martins)
Another slow song on stage. The song is quite Portuguese in its sound. He is the first blind singer in the history of Festival da Cançã.
3.Nuno & Fábia – Amar (Vieste para me salvar) (Pedro Britohá, Pedro Vaz)
This is a duet song on stage and its maybe too classic for Eurovision? Nuno and Fábia are wearing black-white dresses on the stage.
4.David Navarro – Quem é que será? (Jorge Moreira, Jorge do Carmo, Tó Andrade)
This is a rock song. David is wearing a red t-shirt and silver jeans on the stage.
5.Catarina Pereira – Canta por mim (Andrej Babic,Carlos Coelho)
This is up-tempo song on the stage. There are two dancers with Catarina. Its reminds of Ani Lorak's performance at the Eurovision song contest.
6.Filipe Delgado – Serei eu (Ernesto Leite)
A very slow song on the stage. The singer is not strong though. There are three female backing vocals on stage with Filipe.
7.V-Boy – Quando eu penso em ti (Mauro Guerreiro,Vítor dos Santos)
This is hip hop&rap song. There are two backing singers and two dancers on the stage. 
8.Terra D'Água – Amanhã no mar (Davide Zaccariahá,Tiago Espírito Santo)
A very nice ethnic song. Group members are playing guitar, cello and drums. The background images are really nice.
9.Nina Pinto – Meu coração não é meu (Marios Gligoris,Augusto Madureira)
This is a slow song and she is not strong on the stage. There are five backing singers.
10.Gonçalo Tavares – Rios (Gonçalo Tavares)
An up tempo song is now on the stage. The singer is excited, but song is quite nice.
11.Banda Trocopasso – O mundo de pernas para o ar (Jorge Oliveira)
Another up tempo song! He has got strong voice on the stage.
12.Seis Po' Meia Dúzia – Pássaro saudade (Ricardo Rodrigues,Irene Lúcia Andrade)
And last song is ethnic-folk. There are six girls and their dresses are too nostalgic!
The voting:
All acts have now been performed and the voting is starting together with a recap now shown on TV.
To the final are: 
Banda Trocopasso
Ricardo Martins
Seis Po' Meia Dúzia
Catarina Pereira
Gonçalo Tavares
Rui Nova
The  final of Festival da Canção takes place on 6th March with the six songs that qualified from the first semi-final together with the six songs from tonight. Come back to to EuroVisionary for more information.