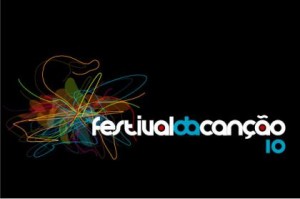 Tonight the first semi-final of Festival da Cançã, the Portugese national selection was held. A total of 12 participants competed for six spots in the final on Saturday. Thursday yet another six participants will pass making a line-up of 12 in total with a chance to represent Portugal at the Eurovision Song Contest.
The first semi-final was hosted by Sílvia Alberto.
The Participants:
1. Nucha – Chuva (Marios Gligoris/Nuno Valério)
First song is a ballad. Nucha represented Portugal at the 1990 Eurovision Song Contest.
2. Ouro – Arco-íris dentro de mim (José Castanheira, Jan Van Dijck/Paulo Abreu Lima)
The singer is strong. The sound is ethnic.
3. Claudisabel – Contra tudo e todos (Jordi Cubino/Luis André Florindo)
A really nice slow song. She got the ticket for this semifinal by winning an internet voting on RTP's website.
4. Filipa Azevedo – Há dias assim (Augusto Madureira)
Filipa alone on stage with piano. The vocal performance is emotional.
5. Jorge Guerreiro – Ai Lisboa (José Félix/Catarina Martins)
A salsa song on stage with folk music.
6. Dennisa – Meu mundo de sonhos (Barreto, João Sanguinheira/João Novo)
This is up-tempo pop song on stage.
7. Nuno Pinto – Fogo lento (Américo Faria)
Nuno Pinto brings a mid-tempo song now. Nuno has a strong voice.
8. Filipa Galvão Telles – O amor não sabe (José Campos Sousa/António Tinoco)
Another slow song on stage. There is a saxophone with classic dance performance.
9. The Agency – É assim que as coisas são (The Agency)
And yet another ballad. The members of The Agency are dressed in black suits and white shoes.
10. Gonçalo Madruga – Cores de um mundo (Gonçalo Madruga)
Do you believe it, another ballad!
11. Evelyne Filipe – A tua voz (Joachim V. Windsant, Maarten ten Hove/Evelyne Filipe)
Evelyne was one of Vânia's backing singers for the Eurovision Song
Contest held in Belgrade in 2008. She is wearing a white dress on
stage.
12. Vanessa – Alvorada (Nuno Feist/Nuno Marques da Silva)
A nice ballad song on stage. She has got a strong voice.
The voting:
All acts have now been performed and the voting is starting together with a recap now shown on TV.
After the voting is closed there is a nice dance show on stage.
And here is the result:
Filipa Galvão Telles,
Jorge Guerreiro,
The Agency,
Nuno Pinto,
Filipa Azevedo,
Vanessa  go to final!
The second semi final of Festival da Canção takes place on 4th March. Come back to to EuroVisionary for more information.