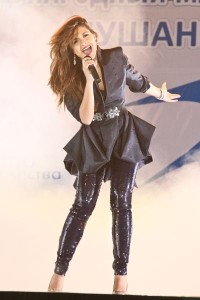 Sirusho, who represented Armenia at the 2008 Eurovision Song Contest, recently performed at a special concert in Tajikistan.  Other stars of Eurovision also took part in the show.
Various stars from the Eurovision Song Contest took part in the special concert in Dushanbe, Tajikistan.  Some of the acts taking part included Alyosha (Ukraine 2010), Safura (Azerbaijan 2010), Koldun (Belarus 2007) and Sofia Nizharadze (Georgia 2010).
The concert for peace was organised by the CIS countries and it will now become an annual event held in different CIS states.
Sirusho was very popular with the watching audience.  She was presented with a national Tajik musical instrument, the Tavlag.  She then delighted the crowds with performances of songs like Erotas Ksafnikos and of course her massive Eurovision hit from 2008, Qele Qele.