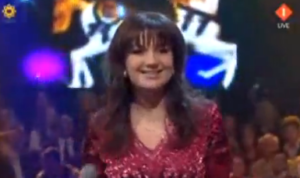 The Netherlands had already picked a song for the Eurovision Song Contest in Oslo and tonight it was to be decided who should sing the song in Oslo in May. The most exiting moment was when the songwriter went against the girlband Loekz he had written the song for and picked Sieneke to represent the Netherlands in Oslo.
Famous Dutch songwriter, Pierre Kartner, the inventor of the Smurfs, has written the song Ik Ben Verliefd (Sha-la-lie), which will represent the Netherlands at the 2010 Eurovision Song Contest. Tonight five contestants, with each their famous "coach" were competing for the honour of singing this song on the stage in Oslo.
The five participants were: 
Sieneke (coached by Marianne Weber)
Vinzzent (coached by Grad Damen)
Loekz, consisting of Jezebel, Elske, Merel, Dessa(lee), Esra and Martine (coached by Frans Bauer)
Peggy Mays (coached by Albert West)
Marlous (coached by Corry Konings)
Girlband Loekz were the big favourite considering the fact that the songwriter had been out saying in the medias that the song were written especially for them. Some will argue that this doesn't give a fair competition and will as such actually be against EBU's rules. But tonight that was all put to a side and everyone tried their best to make it look like everyone had exactly the same chances of winning the Nationaal Songfestival.
Unfortunately The Netherlands has suffered the faith that many Eurovision Song Contest fans from abroad have been shaking their heads since the Dutch entry was first presented in a demo version sung by Pierre Kartner himself and question was if any of the five versions from tonight would have what it needs to convince Europe so much that The Netherlands can qualify for the final of the Eurovision Song Contest. Something they haven't managed since 2004 where Re-Union sang Without You.
The jury consisted of George Baker, Tatjana Simic', Daniél Dekker and three times Eurovision Song Contest winner from Ireland Johnny Logan. Together with the studio audience they will pick the Dutch representatives for the 2010 Eurovision Song Contest. The TV viewers will not have anything to say, but the 1000 people in the audience is mentioned to be widely spread to match the population.
Sieneke was relaxingly dressed in black leggings and a red tunika. She had three female choir girls with her. On stage was a draaiorgel, which is an old traditional Dutch street organ.
Vinzzent had decided to start with a 5 persons choir making an intro for him. He is dressed in black tight jeans, a white t-shirt and a black jacket. With his half long hair most would probably think he was about to sing a rock song, which as we know was not quite the case.
Loekz  is a girlband dressed very colourful – some might begin to think about Frizzle Sizzle who represented the Netherlands at the 1986 Eurovision Song Contest. It is certainly 80's coming back with this one! 
Peggy Mays was dressed in a blue dress which shows legs and shoulders. She is accompaigned on stage by a flute player and three choir singers.
Marlous was dressed in a short summer dress and accompaigned on stage by two female beach dancers – and indeed this song has quite come latino-beach rhytm to it. 
All coaches were picked from the Dutch Schlagerscene and that meant that all of the songs basically sounded the same with little personal touch. Most different were absolutly Marlous's beach theme.
It was clear that Johnny Logan several times didn't know what to say when asked for his comment. He tried to be all positive like when he thinking it was good that Peggy Mays were able to hold a node! It was however a good thing that he didn't understand Dutch as the female host constantly mistranslated him – and made it all sound like he thought it was absolutly fantastic! The only time the host didn't make his words sounds like a lot more than it was were for Marlous song. Strangely enough then Johnny was actually more positive than for some of the others, but according to the host it was just "ok".
Johnny Logan can this year celebrate 30 year's anniversary for his first Eurovision Song Contest winner What's Another Year although the host announced it to be 25 years! No matter if 1980 is 25 or 30 years ago then Johnny was still up for singing it which he did while the studio audience were pressing a number on their maschine. 
When Johnny was asked for his favourite he pointed towards Loekz. The studio audience however prefered Vinzzent. At the end of the voting Pierre Kartner was asked to decide between Sieneke and Loekz who both had two points. Strangely enough he went against his own idea about Loekz for the song – and as such it will be Sieneke that will represent The Netherlands at the 2010 Eurovision Song Contest – although Pierre Kartner did mention that it was very hard for him to choose.