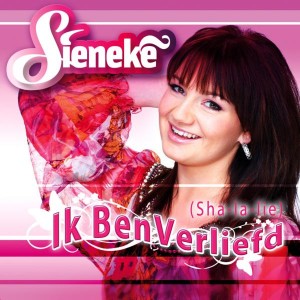 Despite several jokes and nasty comments about the national selection Sieneke's Sha-la-lie – Ik Ben Verliefd is now at the top of the Dutch single chart. The Dutch entry for the 2010 Eurovision Song Contest has turned out to be a love it or hate it song. The Danish entry for the 2009 Contest is still on the chart in the Netherlands – in a Dutch version.
The jokes were many in the hours after the Netherlands chose their entry for the Eurovision Song Contest in May. A Dutch Comedian used twitter to wonder about what kind of medications the audience had been given! And another one gave it a little twist: "Sieneke is actually a magical place on the Isle Of Hoogerypoogery in the forthcoming book Harry Potter And The Next Boring Sequel".
 
But the jokes didn't stop the Dutch population from buying the single, which has therefore now made it to number one in the Dutch single top100. It entered the chart last week as #13.
On that list we also find Jeroen van der Boom, one third of the trio De Toppers, who represented the Netherlands in Moscow last year failing to bring the country in to the final they haven't been at since 2004. Jeroen's Weer Geloven is a Dutch version of the Danish Eurovision Song Contest entry from 2009; Believe Again – co-written by Ronan Keating – and in Moscow sung by Brinck. Weer Geloven is this week's #42 with a total of 13 weeks on the chart.
On the Dutch Album top100 we find Paul de Leeuw as #14 with his album Honderd uit één. He is to Eurovision fans known for an uncountable number of cover versions and for flirting with Sakis Rouvas in 2006 when he was the Dutch spokes person and Sakis the host of the Eurovision Song Contest held in Athens.
 
Franz Bauer is #88 on the album top100. He was in the Dutch national final this year coaching Loekz, the girl band that ended up on a tied first position with Sieneke for their version of (Sha-la-lie)  Ik Ben Verliefd.
Below you can first see Sieneke's performance from the Dutch national final and the a clip from a concert where Jeroen van der Boom sings the Danish entry for last year's contest in the Dutch version.