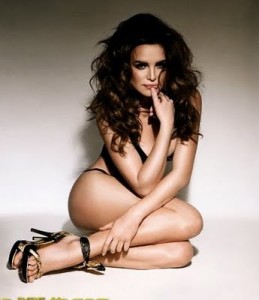 Severina Vuckovic, who represented Croatia at the 2006 Eurovision Song Contest with the song Moja štikla, and is now one of Croatia's most successful female popstars, is having a busy year so far. She has released a new song titled Brad Pitt and is also pregnant.
In the video which can be found on her Facebook page,  Severina continues to display her raunchy approach to life, wearing a series of outfits that leave little to the imagination.  It seems that the sex tape scandal that so damaged her image in Croatia in 2004 has not held her back from expressing her sexy side.  The song was featured in the final show of the Croatian Big Brother, which attracted a substantial audience.
In addition to releasing the new video, Severina has been busy on the home front and has announced she's having a baby with her Serbian fiancé, Milan Popovic.  The baby is due in February 2012, which makes it unlikely that Severina will represent Croatia as ESC 2012.  Who knows, she may even call her muse, Brad Pitt for parenting advice, after all he has plenty of experience!
Severina came 12th in the 2006 Eurovision Song Contest final where she represented Croatia with the song Moja štikla. 
Links