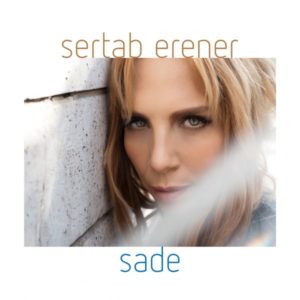 The only victorious Eurovision participant from Turkey, Sertab Erener has been preparing to celebrate her 20th anniversary in music with a special album release titled Sade. It contains eleven songs with three bonus remixes and will be released on April, 12th in digital stores. The first video-clip from the album has already been released.
Veteran singer Sertab Erener who gave Turkey its only Eurovision Song Contest win, in 2003, is celebrating her 20 year long career year in music. She has already released 13 solo albums, with several of them being on the best seller list in Turkey. She is now ready to present a new album with the title Sade. She has also been working with the production of the album, something she has tried once before on one of her solo albums.
On the album Sertab has worked with some famous names who are considered among the best ones in their profession including Demir Demirkan, Sezen Aksu, Nil Karaibrahimgil and Soner Sarıkabadayı. Demir Demirkan is one she has worked together with before as he was the composer of Sertab's Eurovision Song Contest winner Everyway That I Can.
Sezen Aksu is another veteran music idol who have had many contributions to Sertab's best selling albums and Sertab herself actually started her musical career as a backing singer to her. Sezen Aksu attempted to represent Turkey at the Eurovision Song Contest as a singer in 1983 with the song Heymola. Though the song later has been choosen as the best record of the year, she didn't manage to win the Turkish national final. Sezen also tried with the songs 1945 and Küçük Bir Aşk Masalı in the following years, but she never had the luck. Sezen Aksu however later contributed to another Turkish Eurovision Song Contest entry Shake it up Şekerim which ended at a 4th place with Kenan Doğulu's performance.
Nil Karaibrahimgil and Soner Sarıkabadayı are very popular song writers and singers in the country, where Nil Karaibrahimgil several times having been suggested as the Turkish representative for the Eurovision Song Contest.
The new album from Sertab will be released on April the 12th to be ordered online and in most music stores. On her official website she told the following about the album: "I can tell that
it has all the experiments of 20 years. Everyone will find a piece from
their favourite albums of mine.'
The tracklist of the album as it follows:
Dönmüyorsun (Lyrics & Music: Ersel Serdarlı)
İyileşiyorum (Lyrics: Sezen Aksu/ Turan Sarıbay – Music: Özgen Akçetin/ Turan Sarıbay)
Öyle de Güzel (Lyrics & Music: Ersel Serdarlı)
Cumartesi Pazar (Lyrics & Music: Soner Sarıkabadayı)
Çocuktuk Bir Zamanlar (Originally performed by Miriam Mendez – "Fuga N2 en do m") (Lyrics: Sertab Erener/ Sinan Kaynakçı & Music: Miriam Mendez/ Demir Demirkan/ Sertab Erener)
Söz (Originallly performed by Danush – Anirudh Ravichander (Lyrics in Turkish: Nil Karaibrahimgil)
Sade (Lyrics: Ersel Serdarlı & Music: Sertab Erener)
Oyna (Lyrics: Can Temiz & Music: Anonymous)
Karalama Derfteri (Lyrics: Sibel Algan & Music: Demir Demirkan/ Sertab Erener)
Acıtır (Lyrics & Music: Bülent Ortaçgil)
Sus (Lyrics & Music: Sibel Algan)
Remix /Dönmüyorsun : Ozan Yılmaz
Remix /Cumartesi Pazar : Behzad Motallebi
Akapella version / Lyrics: Boğaziçi Caz Korosu (Vokal Arrangement & Maestro: Masis Aram Gözbek)
The debut video-clip has already been released. The video was
recorded to the song İyileşiyorum and reached 250,000
YouTube views in just a couple of days. Below you can watch the official video-clip: