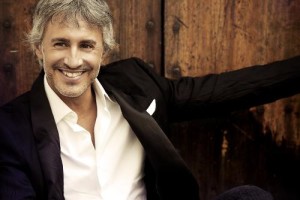 Sergio Dalma's Todo Vía Dalma, a luxury edition which contains the original two albums, Vía Dalma and Vía Dalma II, with twelve bonus tracks most of them unreleased songs, hit the stores today. It also includes a DVD with special footage from concerts, video clips and other events that have taken place in recent years.
It has been over twenty years since he represented Spain at the Eurovision Song Contest with Bailar Pegados and throughout the years he has achieved a solid career, keeping his bestseller status and reaching number ones at the charts with the same modesty with which his songs, one by one, were becoming successful hits not only in Spain but also in Latin America.
The two albums of Sergio Dalma called Via Dalma and Via Dalma II have sold over 400,000 copies in Spain so there is no doubt we are talking about two of the most successful releases of the last years in Spain. These albums are a journey through the Italian classics that shaped the history of music of all time and put together all this stuff for the first time is the perfect tribute to Sergio Dalma's career.
But Todo Via Dalma is not simply a re-release of his last two albums. The track list has increased by reference to its predecessors and, besides the already recorded tracks, Via Dalma includes two bonus tracks entitled El Jardin Prohibido, Tú and Soy Un Italiano. Meanwhile, the new songs included in Vía Dalma II are the acoustic versions of Estoy Bien Así, El Mundo and Margarita; Te Amo, sung in a duet with Chenoa (who was one of the backing singers of Rosa López at the 2002 Eurovision Song Contest); or Em Dones Força recorded with the children's choir of Montserrat.
This luxury edition will also include two DVD with over two hours of extra content. In one of them it is included in its entirety the special show that was aired last Christmas on TVE in which he shares the stage with great artists such as Laura Pausini who participated at the festival of San Remo twice in 1993 and 1994, Umberto Tozzi who represented Italy at the 1987 Eurovision Song Contest or the newest Spanish representative, Pastora Soler. On the other DVD have been compiled his best video clips and concert footage.
A special way to celebrate the success of this project is to sing a duet with one of the most important voices of the Spanish pop Leire, lead vocalist of the band La Oreja De Van Gogh. They sing together the song entitled La Cosa Más Bella included in Via Dalma II and popularized by Eros Ramazzotti, winner of the festival of San Remo in 1984 and 1986.
The video clip of this song was recorded last October in Madrid under the direction of Benet Román. It tells a love story that emerges between Sergio Dalma who plays himself and a hotel maid when the artist is doing interviews during a promotion day. Can two people from two different worlds overcome their differences and live happily ever after? Check it out in the video below.