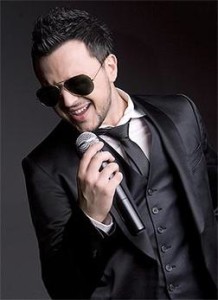 Tonight FYR Macedonia held their second semi-final. They chose yet another eight performers who will sing tomorrow again at the final to pick the representative for the Eurovision Song Contest 2010 in Oslo. Via two semi-finals a total of 16 acts are now ready for the final.
This show tonight was broadcast on MKRTV – channel one, MKRTV Sat and Macedonian radio station. It started at 20:30 CET, live from Universal arena in Skopje. Another 14 songs were on stage and the eight with the most votes passed to the final which will be tomorrow at the same place at the same time.
The rule for the Macedonian selection is that all songs need to be in the national language – Macedonian. In tonight's show, people saw a little concert of the popular ethno group Synthesis. The hosts of of the semifinals and final are Aleksandra Jovanovska and Sanja Arsovska. From green room Ana Marija Zifirovska and Trajche Voinov will assist. The voting was in the same format as last night. Half of the votes were given by 6 members from a professional juries and the other half comes from the audience via televoting. The televoting started from first performing song and it ended 15 minutes after the last one. Citizens from countries as Canada, Australia, Sweden, Germany, Switzerland and Turkey could also vote via a special number. Everyone could vote a maximum of 5 times.
Participants who performed this night are:
 Pamperis – Sni
 Vodolija – Solza
 Nade Talevska – Srekjen kraj
 Teodora Trajkovska – Ljubovna pesna
 Bojan Aleksovski – Beli konj
 Dimitar Andronocski – Kameno srce
 Angela Zdravkova – Zaboravljas
 Viktorija Apostolova – Zavoravi na se
 Vlatko Lozanovski – Letam kon tebe
 Jova Radevska – Se ushte cekam
 Esma's Band – Gipsy Dance
 Maja Vukicevic – Fama
 Kristijan Jovanov – Nikoj na ovoj svet
 Parketi – Ti si kisi fenomen


Pampersi performed with the song that translates to Dreams. It is a rock band consisting of three guys and one girl. They participated at Mak Fest and Skopje Fest, but their biggest success was climbing on top of the Pure Adria Chart, with hits like Watch me and Unique. They were nominated for Best Adriatic Act at MTV Europe Music Awards in competition with the best Balkan artists.
The female singer were wearing a pink dress with little black roses on it as effect. The song had a hard sound of rock.
Vodolija in English means Aquarius. It is Macedonian alternative rock band that was formed in the 1990's in their early high school days. They participated in Skopje Fest 2009 with the song Mojot TV. This band have previously released albums like Ljubov ili strast from 1996, Hazard from 1997 and Sve sto e sveto from 2009. These three guys decided to participate this year because they say they have a good song for it. This night they were singing the song translates to Tear.
The guys sang an emotional, unhappy love song with honest lyrics. It is a slower rock song about tears who are always there with a pain.
Nade Talevska is known from doing backing vocals especially for Tamara, Vrcak and Adrian, the Macedonian participants for the Eurovision Song Contest 2008 held in Belgrade. This year she sing a song that translates to Happy end. She did also participate at the Ohrid Fest 2009 last year, and collaborating with Grigor Koprov competed at the national Eurovision Song Contest selection with the song Do you think on us.
Nade came on stage with two more girls who were playing guitars and dancing and wearing alternative-elegante clothes. Two more guys were behind on keyboards and drums.
Teodora Trajkovska performed a song which translates to Love song. In 2003 she took part in the national selection for the Junior Eurovision Song Contestj. After seven years she has grown up and decided to take part in national selection for the Eurovision Song Contest. She was also in the children's festival Colorful Notes, and last year's audience saw her at Ohrid Fest 2009 which was a good start for her future career.
Tonight they had a great alternative look on the stage. A few more guys supported her playing instruments while she was singing a pop-rock song.
Bojan Aleksovski is born in Pozega, and lives in Rijeka, both cities in Croatia but he is originally from FYR Macedonia. He took part in Ohrid Fest 2009, performing at the event of the Young stars, from where he managed the event of the pop starts evening singing the song The end. At the moment he is working with Robert Bilbilob, Ognen Nedelovksi and K-Team Production.
His song translates to White Horses. Tonight he wore a black suit singing a love ballad with a pretty voice, alone on stage.
Dimitar Andonovski became known after his part in the music show for talents M2, where he reached 5th place. Before that he took part in the festival Si Do and in 1994 at the children's show Hello Genius. Now he is a performer of the production house Republica and winner of Festa, the festival where he won a 10 000 euro price, which he invested in his career. The song he sang tonight means Stone heat in English.
He came on stage with a hat on his head wearing glasses, along with a band and two girls as backing vocals.
Angela Zdravkova were introduced to FYR Macedonian at the talent show Mak Stars, where she became the favourite participant but in the end she didn't win this competition. Her next step was to participate in Skopje Fest 2010 with a song would be called Forgeting in English. She thinks that the Eurovision Song Contest is very well-known spectacle seen by everybody in FYR Macedonia and that it gives her a good chance for promotion. Even if ballads are her favourite, this song is in pop-rock tune.
She sang a happy pop-alternative song wearing a cute pink dress. Behind here, girls were wearing pink shirts and the guys white, playing instruments.
Viktorija Apostolova is a 22 year old girl who loves to sing, dance and enjoys extreme sports. Tonight she sang a song that translates to Forget it.
Her song started with a kind of traditional sound, good rythm, with dancers who were dancing. The song is a mix of various  sounds, slower and faster. Because of techical problems on the television channel, they repeated the song again, to which the audience didnt react so good because of that problem. The song itself though was well received by the audience.
The English title of Vlatko Lozanovski's song would be I fly towars you. Vlatko is a young and talented singer from the city Kichevo. His first public performance was at the Mak Starts competition. He joined music festivals in Macedonia and abroad. With the songs Vrati me, Obicen bez tebe, Sonce ne me gree, he got top positions in Macedonian music. He participated at Skopje Fest 2009 and reached the 4th position.
Tonight he sang a love song, with beautiful lyrics and fantastic sound of guitars. He wore a black jacket and accepted big applause from the audience.
Jova Radeska is a 28 years old singer who lives and works in London, England. The audience met her two years ago at the Macedonian national selection for Eurovision Song Contest. She already has an English album, which she recorded in London. This year she came back to Skopje Fest 2010.
She entered stage alone, singing slow at the begining, it was an R'n'B song. Dressed in alternative clotes, and with slow moves, she performed the song with her amazing voice. Everyone felt her emotional way of singing. The music of her song has a bit of ambient sound. Nice for ears and audience were content.
Esma's band's song is called Gipsy Dance in English. This band have all singers who follow Esma Redzepova, the queen of Gipsy music and as a singer now, they have the 19 years old girl Eleonora Mustafovska.
The song is in a modern style, about a Gipsy girl who is in love with a boy from another nationality and she sings to him in a way of their music style to show him her love, inviting him to dance in her Gipsy way. The male part of the band was behind the singer hitting traditional drums, while she was singing and being the centre of attention with her seductive dance. Supported at the end with biggest applause until now.
Maja Vukicevic has participated in the Macedonian music scene since she was 13 years, scoring many hits. After a long time, we see her in the Macedonian national Eurovision Song Contest selection.
She came on stage in a white unusual dress and white details in her hair. It is a pop song with her chest voice, having male dancers in black, dancing a neat choreography.
Kristian Jovanov became famous from the television reality show Fame Academy which was in Belgrade, covering five of the ex Yugoslavian countries. He participated last year in the national selection for the Eurovision Song Contest with the song I won't speak and finished at the 11th place in the final. This night he sang a song that translates to No one in this world.
It was a ballad with a little bit of jazz parts in it, having guy playing guitar and someone else playing the flute. It is an emotional, touchy song. Her voice is clear and beautiful. A couple danced ballet moves in the back.
Parketi, the band from Bitola, has existed on Macedonian stages for 10 years now. The band released two albums Remorse and Fizzy Union. Now, after same changes, the band has five members. In 2008, they participanted in the Macedonian national selection with the song Strawbery, which became a hit.
Their song this night translates to You are a kissy phenomena, which is in their style. A funny and creative performance with a girl, guitar and drums which were made of cardboard. One guy played the flute in bit folk way, on a real instrument, not a painted one on cardboard.
The Show
The performers came on stage through half circle stenography with lots of spotlights. First came the hosts Aleksandra Jovanovska and Sanja Arskovska, wearing elegant dresses and introduced this night's show. Then followed a warm welcome from the hosts from green room, where we saw a good atmosphere. Participants sat, prepared and danced while waiting for their turn to come on stage.
After every five songs they made a break with live report from backstage, having short interviews with the female singer from band Pampersi where she said "Eurovision needs to have one good hard rock song". The singer from band Vodolija is content with his performance. Nade Talevska said that she is so excited and happy for being there, and she hopes for a good position. Teodora Trajkovska, as the youngest singer there, also thinks that Eurovision Song Contest needs to have good rock song and she makes a joke that the jury doesn't need to be mild with her because she is the youngest. Bojan Aleksovski said that he sang better than he expected.
After another five songs, they reported again from backstage. Dimitar Androvski says that he is content with song. Shen asked about her pre-performance rituals, Angela Zdravkova answered that she prays for herself. Viktorija Apostolova is also satisfied. Vlatko Lozanovski hopes for the final, Jova Radeska said that she wanted to sing her music style because it is new in Macedonia.
The reactions from the last four singers are: Esma's band who are satisfied about having very good communication in the team. Maja Vukicevic said that she had good energy on stage and a professional team who worked with her, one of them is Serbian director Dejan Milicevic,. She also said "Without them I couldnt do this". Kristijan Jovanov feels great. He is just worried a bit because he performed 13th, the unlucky number, but he thinks it will be his lucky number. The members of the band Parketi fist said that they don't have special comment on their performance, they just think it was great. Then they made few jokes about cardboard girls.
After a mini performance by an ethnic group had finished, the voting started. The jury told that it was hard to make decisions and to give points, because the songs were all quite good. Later we had all results.
The eight songs which passed to the final of Skopje Fest 2010 (from most points to least) are:
1. Vlatko Lozanovski
2. Esma's band
3. Maja Vukicevic
4. Nade Talevska
5. Viktorija Apostolova
6. Kristijan Jovanov
7. Angela Zdravkova
8. Vodolija
Tomorrow is the final night for the FYR Macedonia national selection. We will hear these 8 participants again, together with the 8 who passed from the first semifinal, which was held yesterday.