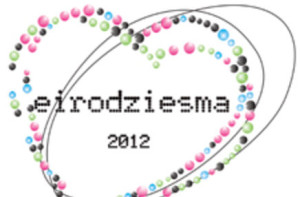 The second semi-final in Eirodziesma 2012 will start in a little over 24 hours. Ten acts will participate in the first semi-final and only half will make it to the final.  A first semi-final qualifier, Samantha Tina, will participate once again, but this time she will be alone on the stage.
The songs can be heard by follow the links from the song titles below.  
Miks Dukurs & NBC – For Me Sweet (Music: Miks Dukurs/ Lyrics: Miks Dukurs, Georgijs Girbu)
In early life of little Miks, he participated in vocal competitions with the support of his parents. He founded a group, and participated in the Latvian selections for the Junior Eurovision Song Contest and later in adulthood participations are followed by Eirodziesmas. He also appeared in the cast list of various adventures on Latvian television shows and music programs. Hip Hop group NBC was founded in 2009 by George Girbu, who also owns the song For Me Sweet. 
Young pop singer Miks accepted NBC's offers for For Me Sweet to participate in the Eirodziesma 2012. This mid-tempo pop song has a catchy tune with the spirits of hip hop. Miks finds himself so sweet in this song but he'll be for sure so sweet for his female fans on Saturday's show.
Valters Gleške & Lība Ēce – Better World (Music: Valters Gleške, Māris Orehovs/ Lyrics: Valters Gleške)
Liba wanted to become a violinist in childhood and she took violin courses at Jumala Music School in 2008 but she also had ambitions to be a singer. Earlier, in 2006, she won the competition Wings of Music and Do-Re-Mi. This success was followed by winning Latvian Talent 2008. In 2011, Liba represented Latvia at the Eurovision Song Contest in Düsseldorf, as one of the backing singers of Musiqq.
Walter began singing at the age of eight and took some piano lessons. In 2005, he became a vocalist and also a leader of the group Embassy and the band has released several albums and has participated in many projects, including Ģimenes Svētki, Bībeles Svētki, Rīgas Svētki, Cerības Festivāls and more than ten thousand fans attended each of their concerts.
The song Better World is a pure ballad which is more like a mixture of opera and soul. Will this duo create a better world for themselves? Let the fans give this decision on Saturday. 
The 4  – Get It Started (Music: BuGaGa Projects/ Lyrics: Sandris Vestmanis)
The 4 is founded by the young talents, Eve Bistrova, Edgar and Sandra Krumins Vestmanis. Then they started to work with the producer BuGaGa Projects (Arthur Stove) who cares much about their style, musical ideas. They promise to give a great show as each member can write and compose songs.
The song Get It Started has a catchy tune that will be sung in disco/techno style. The 4 think they will bring a party atmosphere on Saturday with their song and they have message for Eirodziesma viewers:  Go! Party to begin with "The 4"!
Anmary – Beautiful Song (Music: Ivars Makstnieks/ Lyrics: Rolans Ūdris)
Anmary's (real name Linda Amantova) musical ambition began in childhood, then she went to Gulbene Children's Music School and then John Rezekne Ivanov College of Music, where she studied piano. She sang some advertising music and later she was invited to the Hamburg Symphony Orchestra to sing Magnificat.
The fourth song, Beautiful Song, is mid tempo pop played with different instruments. Linda tells us there is a beautiful song on a radio, on a TV show which everybody knows and everybody sings loudly. But who knows? Her song might be one of them as fans love loud participants' song in the Eurovision arena!
Paul Swan – Wanna Be With You (Music: Kaspars Pudniks/ Lyrics: Paul Swan)
Lyricist, composer and singer, Pavel Fomkins, is also known under the pseudonym of Paul SWAN. His profession is playing guitar and currently studying at university. Paul enjoyed his success in various vocal competitions and music festivals (the "New Legend" (winner of the honour), "New Star", "Possibility Young, and ""Golden Globe," Unity in Diversity 2005 "," Guitarday 2010 "," and New wave".
Wanna be With You seems to be the most professional act of first five. The predictions give him a huge chance to qualify to the final easily. Confluence of piano and guitars bring us a good song to be listened on Saturday's show. 
Roberts Pētersons – She is a Queen (Music: Austris Rietums/ Lyrics: Līga Markova)
The youngest singer in the competition, Roberts, will celebrate his 18th birthday on the stage on January 14th when the second semi-final will take place. Roberts succeeded to qualify to the semi-final stage in Junior Eurodziesma this year too. He has taken part in many national and international musical events and contests; recently he won Berliner Perle 2010 in Germany.
Though it's announced Roberts as a single singer on this edition of Eirodziesma, he actually won't be alone at the stage with his song She is a Queen. As this will be played in rock style, Erward Tork on keyboard and backing vocals, Edgar Pigeon on lead guitar, Christopher Freedman on bass guitar, Martin Rusk on backing vocals and Karl Indrosonoks on battery and drum will play with him.
Samantha Tina – For Father (Music: Elmārs Orols/ Lyrics: Samanta Tīna)
Samantha participated in LNT – musical reality show 'Oh Card Academy' and won. She successfully participated in various Latvian and international music competitions and has appeared on TV on several occasions. No matter if she wins or not, her place in the final has already been reserved as she qualified from first semi-final to the final last weekend.
This song, For Father, is another ballad that is playing with pianos and partly drums and guitars. As the lyrics are written by Samantha, she will perform for her father on Saturday.
Elizabete Zagorska – You Are A Star (Music: Atis Auzāns/ Lyrics: Kārlis Streips)
Elizabete is famous in Latvia as singer, musician, a musical actress and host of a music programme on TV. She studied piano in high school and singing in university. Later on in her career, she appeared in many musicals and TV shows. Elizabeth also participated in Eirodziesma 2008 with her song Take Me Home but couldn't take the ticket for Belgrade.
The song, You are A Star, has a rock spirit, but we actually will hear ethnic melodies for the first time in Eirodziesma 2012 with Elizabeth's song. We will know whether Elizabete will be able to take a step further to be a star in her career in the stages.
Mad Show Boys – Music Thief (Music & Lyrics – Garijs Poļskis)
Members of the group are: Uldis Leiskalns, former national opera soloist, Thank God Friday is Here is one of the famous musical he played. Andre de Page (full name Andris Lapinjsh) is another national opera soloist of the group, he loves to sit in the living room, baking walnut in the fireplace, and drinking champagne "Dom Perignon", he also likes listening to recordings by opera singer Andris Lapins. Gary Polska is the driving force of the group as he's the only author. He cannot read rap, but no one in the group dares to tell him about it. Buntars Īsulis, (full name Alexander Veselova) is the main soloist of the group. Winning Eurovision is an opportunity to get a gal for him. Midi (full name Aldis Zaļūksnis) is a backing vocalist and he plays all the instruments; including Hungarian and Albanian lip brush pliers. Mister X, is a mysterious person as he never removes the mask. There are rumours that he might be Justin Biber!
The most interesting act of the night will be performed by Mad Show Boys. In some parts of their song Music Thief, we are reminded of Alexander Rybak's Fairytale but their act is more like Lithuanian Inculto (2010) or LT United (2006).
Triānas Parks – Stars are My Family (Music: Aivars Rakovskis/ Lyrics: Agnese Rakovska)
The group was founded by three males and a female vocalist. They work with popular names such as  Aivaras Rakovski and Agnes Rakovska, who also put their hands on to create their act, Stars are My Family.
The song Stars are My Family will close the semi-final stage of Eirodziesma 2012. The song will be performed in indie/rock style where they will mostly say "big stars are my family" in the lyrics. But are they family of viewers anyway?  
Only five of participating names will go through to the final stage of Eirodziesma.  The results will be shaped after the overall scores by televoting and the jury with ten members as in the first semi-final.