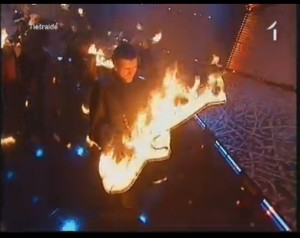 The second and last semi-final in Eirodziesma was held tonight. Ten participants competed to earn their place in the semi-final where only five places were available. One of first semi-final qualifiers, Samantha Tina, also participated on tonight's show, she didn't make it to the final.
Today, the last heat in semi-final stage kicked off in Eirodziesma with the second semi-final show. Ten participants in total fought for the five tickets to the final. As there were ten performances, the broadcaster let them sing all of their song in the second semi-final, unlike the first show, where we heard only half length of the songs.
The Songs 
Song 1: Miks Dukurs & NBC – Sweet for Me
The audience in Latvia knows Miks Dukurs from the selections for the Junior Eurovision Song Contest and later from his participations in Eirodziesmas. Tonight, the Hip Hop group NBC were on stage with him on the stage for this mid-tempo pop song with a catchy tune with the spirits of hip hop and Miks reminded us Estonia's 2010 representative, Malcom Lincoln in his suit. At the beginning, Miks went all alone on the stage and later on, the group NBC (actually they were two) appeared. In the performance,  Miks finds himself so sweet in this song but he'd be for sure so sweet for his female fans on tonight's show. It was a good start to 2nd semi-final in Eirodziesma.
Song 2: Valters Gleške & Lība Ēce – Better World
Last year, Liba represented Latvia at the Eurovision Song Contest in Düsseldorf, as one of the backing singers of Musiqq. Tonight she is fighting for participation at the contest, but with Valters this time. The song, Better World was a pure ballad which is more like a mixture of opera and soul. The duo stayed in a good harmony on the stage as the level of their song was excellent.
Song 3: The 4 – Get It Started
The 4 founded by the young talents, Eve Bistrova, Edgar and Sandra Krumins Vestmanis. They were giving us a promising show as they claimed they would. The song, Get It Started, has a catchy tune that was sung in disco/techno style. Two backing vocals and a male dancer with discs helped their performances at the stage.
Song 4: Anmary – Beautiful Song 
Anmary's song, Beautiful Song, is mid tempo pop played with different instruments. Linda tells us there is a beautiful song on a radio, on a TV show which everybody knows and everybody sings loudly. She started singing sitting on a couch with a History of Eurovision book on her hands. Anmary and three backing vocals gave a faultless performance out there.
Song 5: Paul Swan – Wanna Be With You

Wanna be With You seems to be the most professional act of the first five. The predictions give him a huge chance to qualify to the final easily. Confluence of piano and guitars bring us a good song to be listened on Saturday's show. Paul Swan performed with a rock band on this song but unfortunately some parts of his song were out of tune.
Song 6: Roberts Pētersons – She is a Queen
The youngest singer in the competition, Roberts, celebrates his 18th birthday on the stage as he was born on January 14th when is also the current date. Roberts is also known from last year's selection for Junior Eurovision Song Contest. Today he was actually not alone on the stage with his song She is a Queen. As this one played in rock style, Erward Tork on keyboard and backing vocals, Edgar Pigeon on lead guitar, Christopher Freedman on bass guitar, Martin Rusk on backing vocals and Karl Indrosonoks on battery and drum played with him. They seem like a young boy band on this up tempo rock song. They really rocked the stage.
Song 7: Samantha Tina – For Father 
Samantha's place in the final has already been reserved as she qualified from first semi-final to the final last weekend. This song, For Father, was another ballad of the night that was playing with pianos and partly drums and guitars. As the lyrics were written by Samantha, she performed for her father at the stage. Two male and one female dancer helped her performance at the stage.
Song 8: Elizabete Zagorska – You Are A Star 
Elizabete is famous in Latvia as singer and musician in Eirodziesma as she participated in 2008 with her song Take Me Home but couldn't take the ticket for Belgrade. The song, You are A Star, has a rock spirit, but we actually heard some ethnic melodies from Baltics for the first time in Eirodziesma 2012 with this song.  Several drums and several of male musicians helped Elizabete on the stage. In the performance, they set the drums on fire, played a guitar which they also set on fire. It was a great visual show.
Song 9: Mad Show Boys – Music Thief
Members of the group are: Uldis Leiskalns, Andre de Page, Gary Polska, Buntars Īsulis, Midi and Mister X (he is a mysterious person as he sang with a mask today.) The most interesting act of the night will be performed by this group as in some parts of their song Music Thief, we are reminded of Alexander Rybak's Fairytale but their act is more like Lithuanian Inculto (2010) or LT United (2006). They acted like they were the joke act of the day as their song has ironic elements. So are they?
Song 10: Triānas Parks – Stars are My Family
The group was founded by three males and a female vocalist. The song, Stars are My Family, closed the semi-final stage of Eirodziesma 2012. The song was performed in an indie/rock style where they mostly say "big stars are my family" in the lyrics. They dressed weirdly all in blue but their act was weirder!
The Show:
The show started at 20.20 CET broadcasted live by the national broadcaster LTV's main channel, LTV1. Our hosts of the night were two famous faces in Latvia, Christine and Walter Virsnīte Fridenbergs and the show took place in NA Studios in Ventspils. The duo presentred the show in front of a board with the logo of the official sponsors of the show, Turkish Airlines and LTV logos written on. The face of the Turkish Airlines' advert was Sertab Erener, who got popularity in the country after winning 2003 Eurovision Song Contest in Riga. They announced each artist with their backgrounds and after each performance; the participants came to see them in front of the board where they were interviewed.
The Voting:
The results were shaped after the overall scores of televoting and jury with ten members. Televoting started after the last act finished their performance and lasted 15 minutes. The recaps of the songs were shown shortly afterwards again and again.
This year, a different system in jury choices was being used for the first time in the history of Eirodziesma. Different names appeared for each show, which means that in the first semi-final and second semi-final, also in the final, we will be able to meet a total of thirty professional names in the jury seats. Each jury member was presented to the audience after televoting had finished.
All the participants came back to stage again to hear the results. After they were interviewed for the last time, the qualifiers from first semi-final were re-caped in an alphabetical order. The jury results were:
1 points: Wanna Be With You
2 points: Better World
3 points: Get It Started
4 points: For Father
5 points: Sweet for Me
6 points: She is a Queen
7 points: Beautiful Song
8 points: Stars are My Family
10 points: You are a Star
12 points: Music Thief
Five envelopes were given to the hosts and announced randomly. The finalists were:
•    Elizabete Zagorska – You are A Star
•    Anmary – Beautiful Song
•    Roberts Pētersons – She is a Queen
•    Triānas Parks – Stars are My Family
•    Mad Show Boys – Music Thief
With these results, the complete line-up for the final now looks like:
•    Samantha Tina & Davids Kalandija – I Want You Back
•    PeR – Disco Superfly
•    Andris Ābelīte – We Can Change the World
•    Ruta Duduma – My World
•    Paula Dukurs – Celebration
•    Elizabete Zagorska – You are A Star
•    Anmary – Beautiful Song
•    Roberts Pētersons – She is a Queen
•    Triānas Parks – Stars are My Family
•    Mad Show Boys – Music Thief
The Final of Eirodziesma 2012 will be held on February, 18th.