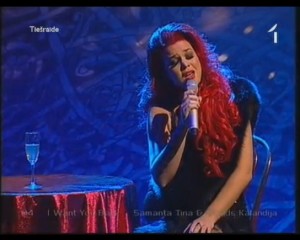 Eirodziesma 2012 continues with its second heat on Saturday. Another group of ten participants will fight for the battle of making it to the final. One of the qualifiers from first semi-final, Samantha Tina, will participate once again, but this time she will be alone on stage.
The show will start at 20.20 CET and will be broadcast online and via
satellite by the Latvian broadcaster, LTV1. Ten
acts in total will fight the battle to get to the grand final, only five
will go through. The line-up for the second semifinal will be shaped as:
Miks Dukurs & NBC – Sweet for Me (Music: Miks Dukurs/ Lyrics: Miks Dukurs, Georgijs Girbu)
Valters Gleške & Lība Ēce – Better World (Music: Valters Gleške, Māris Orehovs/ Lyrics: Valters Gleške)
The 4 (Group) – Get It Started (Music: BuGaGa Projects/ Lyrics: Sandris Vestmanis)
Anmary – Beautiful Song (Music: Ivars Makstnieks/ Lyrics: Rolans Ūdris)
Paul Swan – Wanna Be With You (Music: Kaspars Pudniks/ Lyrics: Paul Swan)
Roberts Pētersons – She is a Queen (Music: Austris Rietums/ Lyrics: Līga Markova)
Samantha Tina – For Father (Music: Elmārs Orols/ Lyrics: Samanta Tīna)
Elizabete Zagorska – You Are A Star (Music: Atis Auzāns/ Lyrics: Kārlis Streips)
Mad Show Boys – Music Thief (Music & Lyrics – Garijs Poļskis)
Triānas Parks – Stars are My Family (Music: Aivars Rakovskis/ Lyrics: Agnese Rakovska)
As in the first show, the result will be made after the overal scores of televoting and a jury with ten members. This year a different system in jury choices are being used for the first time in the history of Eirodziesma. Different
names will appear for each show, which means that no jury member will be judging twice. In total we will be able to meet a total
of thirty proffessional names in the jury seats in these shows.