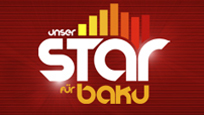 The second show of the German national final Unser Star für Baku was held tonight. Like last week ten participants competed to proceed to the next round. Five of them were finally chosen by the public via a live voting.
The show started with a short review of last week's edition and a reprise of the five artists who already reached the next round.
The songs:
1. Andrew Fischer – Tears in heaven
Andrew is 20 years old and comes from Baden-Wurttemberg. Tonight he gave us a performance of Eric Clapton's Tears in heaven. While performing Andrew was sitting on a stool playing the guitar. The first notes of this quiet and classic ballad sounded a bit nervous, but throughout the song Andrew improved his vocal performance. After the song Thomas said that after a nervous beginning Andrew put his soul to this song. Alina thought it was wonderful, while Stefan praised the song of Andrew's voice.
2. Polly Zeiler – Grenade
Anna Pauline Zeiler, called Polly, is a 19-year-old pupil who performed Bruno Mars' Grenade. She sang correctly, but somehow her voice did not seem to fit to this song, espcially during the higher notes. Thomas and Alina stated that Polly's voice is full of energy, but they also would like to see her singing a song which is more quiet. Stefan was surprised that Polly sounded so experienced even though she is just 19.
3. Sebastian Dey – This love
Sebastian Dey, a 32-year-old carer for elderly people gave a confident performance of This love by Maroon 5. He sang very well and received so far the biggest applause of the night. Right after his song he climbed up to the top of the voting. Stefan praised his performance and thought it was even better than the original version. Alina found that the performance was entertaining, but not very convincingly. Thomas liked especially Sebastian's hat and thought he was a unique guy.
4. Jörg Müller-Lornsen – Maybe tomorrow
Tonight's number 4 was Jörg Müller-Lornsen, a student from Lübeck. He performed Maybe Tomorrow by the band Stereophonics. So far this was the best vocal performance of the night. Jörg put lots of emotions to the song, especially during the verses, but despite this the whole performance appeared a bit boring. Alina found the performance spiritual, Stefan agreed and explained that Jörg's eyes focused on something which actually did not exist. In addition to that Thomas said that Jörg seemed to be not from this world during this appearance on stage.
5. Ornella de Santis – Slow motion
Ornella is a 27-year-old singer from Offenbach. She showed us her own interpretation of the song Slow motion by Karina Pasian. Her voice sounded very special and extraordinary. Her vocals were flawless and one could hear that she is an educated singer. During her performance she already receives applause from the audience. Thomas said that Ornella's voice is technically perfect with lots of emotions. Stefan thought that there are not many singers who have such a control over their voice.
6. Rachel Scharnberg – My baby left me
Next on stage was Rachel Scharnberg with My baby left me by Rox. Her performance was very good with a lot of soul in her voice. Alina liked it because Rachel appeared so female. Thomas said that one could see that Rachel had a lot of fun on stage. 
7. Tina Sander – Geronimo
Tina is 19 years old and studying vocal performance in Bremen. She performed Geronimo by Aura Dione which is actually a "love or hate song". Tina managed to give her own interpretation of this song, playing the guitar as an accompaniment on stage. She did not hit every note, but overall it was still acceptable. Thomas said that the song was very difficult to sing and liked it a lot. Stefan agreed and said that there are not a lot of singers who are able to sing this style (a mixture of head voice and chest voice). 
8. Umut Anil – Straight up
With Umut Anil another student came on stage. Umut sat on a stool and played the guitar. After the first notes he already received applause. He gave a very touchy and emotional performance of Paula Abdul's Straight up and a completely different interpretation. He turned the song which was used to be a dance number into a ballad. Both Thomas and Alina said that his vocals were better at the beginning, when Umut was just accompanied by his guitar. Stefan only criticized the timing because Umut seemed to be faster than the band in some parts.
9. Yana Gercke – Price tag
As number 9 Yana Gercke appeared on stage, a 19-year-old girl who currently works as an ambulance woman. She sang Price tag by Jessi J.. Right from the first note she convinced the audience with her very powerful voice. The whole performance was very catchy including a rap part and the applauce Yana received was one of the biggest tonight. Thomas was very enthusiastic and rated her performance as shiny. Alina was surprised because Yana appeared so shy at the beginning. Stefan shared her opinion and especially liked the rap part. 
10. Vera Reissmüller – Fooled me again
Tonight's last competitor was Vera Reissmüller who was loved right away by the audience because of her extreme Swabian dialect. She did not disappoint the audience with her performance of Lady Gaga's Fooled me again. Her voice sounded very strong and so was her interpretation. She smiled throughout the whole performance and seemed to enjoy it to be on stage. Alina liked it a lot because Vera was so entertaining. Stefan found it amazing that Vera knows how to speak English, although she is not able to speak Standard German. Thomas answered in Swabian dialect that her performance was great.
The results:
Like last week there was a live voting which means that the public could see the current standings during the whole show. And again it was very exciting because there was just a tiny difference between no. 1 and no. 6. At the end those five artists were voted to the next round:
Yana Gercke
Ornella de Santis
Rachel Scharnberg
Sebastian Dey
Umut Anil
The first round is now completed. Last week the public sent Roman Lob, Katja Petri, Céline Huber, Shelly Philipps and Leonie Burgmer to the next show which will be held on January 26th at 20.15 CET.