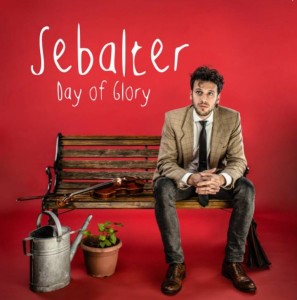 Sebalter, who represented Switzerland at the 2014 Eurovision Song Contest with the song Hunter Of Stars has finally released his most anticipated debut album, Day Of Glory, which contains eleven tracks composed by Sebalter himself over recent years.
Sebalter reached the final of the Eurovision Song Contest in Copenhagen with the song Hunter Of Stars and achieved a respectable 13th place, one of the best results for Switzerland in recent times. His song reached top positions on the Swiss charts and even made it into the charts in other European countries such as Austria, Belgium, Germany, the Netherlands and the United Kingdom.
His Eurovision success was followed by a concert tour around Switzerland and abroad, but he also had time to work on his debut album, Day Of Glory, which was released on the 9th of January.
This long-awaited debut album consists of eleven original songs which have been written by Sebalter himself. It is full of folk tunes and it also contains some emotional ballads and catchy pop songs, but Sebalter is faithful to his own style and we can hear his trademark violin in almost all the tracks.
Sebalter has stated that the idea behind the title is that you can always make any day a day of glory, no matter what you do.
The official presentation of the album will be held on the 24th of January in a concert at Plaza Cinema Mendrisio.
The tracklist of the album is as follows:
1. Shadows
2. September
3. Day of Glory
4. Sweet Melancholy
5. Hunter of Stars
6. Sleepless Nights
7. Clouds
8. Saturday
9. Nostalgia
10. Songs of Serenity
11. Not Every Picture Means Goodbye
In the video below you can listen to Sebalter perfoming live the track Saturday, the first single of the album.