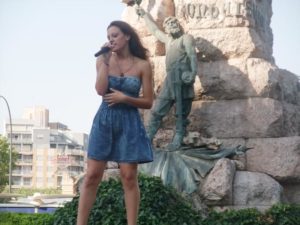 Sara Markoska, who represented FYR Macedonia, at the 2009 Junior Eurovision Song Contest with Za Ljubovta took part in a series of festivals in Palma de Mallorca, Spain with the Dance Studio Eureka from Skopje.
The Dance Studio Eureka were in Spain to promote the music and culture of FYR Macedonia.  The main event took place at the Plaza de España in Palma de Mallorca.  There was a Eurovision theme to many of the performances.  EuroVisionary was there to report on the event.
Sara Markoska performed her version of Satellite (the winning song for Germany at the 2010 Eurovision Song Contest) and other songs including Sorry Seems To Be The Hardest Word from Elton John, Hijo de la luna of Mecano and an ethnic FYR Macedonia song.
Mila Janevska was runner up to Sara in the FYR Macedonia Junior Eurovision final with Nema Boja Ljubovta.  Mila sang a unique Spanish version of her Junior Eurovision song entitled Tiene Fuerza el Amor.  Mila also performed I Will Always Love You by Whitney Houston and When Love Takes Over from David Guetta featuring Kelly Rowland and also an ethnic song from her country.
Sara was also dancing with the Dance Studio Eureka.  Some of the dancers, including Bisera Martinovska, performed with Sara on stage in Kiev, Ukraine at the Junior Eurovision Song Contest.  The Dance Studio Eureka also danced to Tose Proeski, Life (2004) and also Ruslana Wild Dances (2004).  The show ended with group dancing to Waterloo the winning song for ABBA in 1974.