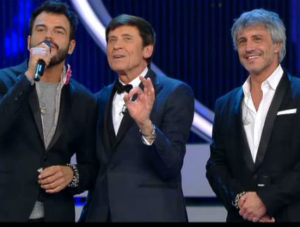 The third evening of the Sanremo Festival saw stars from all over the world, such as Sergio Dalma, on stage at the Teatro Ariston singing Italian songs that have been hits in various languages and countries around the world.
It was also an opportunity for the four acts eliminated from the 'Big'
section last night to be reinstated to proceedings via a public phone
vote. 
The international artists, including Sergio Dalma and Noa, sung the songs in duets with the acts from the 'Big' Section. After each had sung the Italian song, the guest sung one of their own songs. The combinations were:
Nina Zilli e Skye (Morcheeba)– Never Never Never (Grande, Grande,Grande – Mina)
Samuele Bersani e Goran Bregović – My Sweet Romagna (Romagna Mia – Secondo Casadei)
Dolcenera e Professor Green – My Life Is Mine (Vita Spericolata – Vasco Rossi)
Pierdavide Carone con Lucio Dalla e Mads Langer – With All My Heart And Soul (Anema e Core – Tito Schipa)
Irene Fornaciari, Brian May feat. Kerry Ellis – I (Who Have Nothing) (Uno dei Tanti – Joe Sentieri)
Emma e Gary Go – If Paradise Is Half as Nice (Il Paradiso  – La Ragazza 77  and Patty Pravo)
Matia Bazar e Al Jarreau – Speak Softly Love (Parla Più Piano – Nino Rota)
Noemi e Sarah Jane Morris – To Feel in Love (Amarsi un Po' – Lucio Battisti)
Francesco Renga e Sergio Dalma – El mundo (Il Mondo  – Jimmy Fontana)
Arisa e Josè Feliciano – Que serà (Che Sarà  – José Feliciano)
Chiara Civello e Shaggy – You Don't Have to Say You Love Me (Io che non Vivo (Senza Te) – Pino Donaggio)
Gigi D'Alessio con Loredana Berté e Macy Gray – Flame (Almeno Tu nell'Universo – Mia Martini)
Eugenio Finardi e Noa – Surrender (Torna a Surriento  – Mario Massa)
Marlene Kuntz e Patti Smith – The World Became the World (Impressioni di Settembre – Premiata Forneria Marconi)
After an evening of song and dance, the four acts hoping to have a second chance and dreading permanent rejection were given the opportunity to perform again. Two would be singing for the last time. In the firing line were:
Pierdavide Carone e Lucio Dalla – Nanì
Irene Fornaciari – Grande Mistero
Gigi D'Alessio e Loredana Bertè – Respirare
Marlene Kuntz – Canzone per un Figlio
After the phone lines had closed and the votes had been counted, Irene Fornaciari and Marlene Kuntz leant that they were the unlucky ones who had been eliminated from the festival for good. Pierdavide Carone and Lucio Dalla and Gigi D'Alessio and Loredana Bertè (much to the delight of the audience) survive to lose another day.
Tomorrow evening will see two of the remaining twelve songs voted out of the festival. It is also the night of the Sanremosocial final, where the four acts left will sing for victory. It is worth remembering that last year's winner of this section of the festival, Raphael Gualazzi, was chosen to represent Italy in the Eurovision Song Contest. It is quite possible that whoever is crowned winner of Sanremosocial will be asked to go to Baku in May.