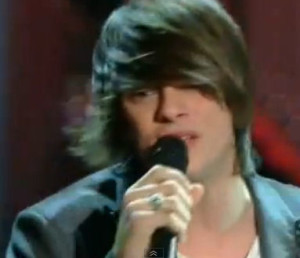 Tonight was a busy night in Sanremo's Teatro Ariston. The remaining twelve acts in the Artisti section sang for the right to be part of the final tomorrow evening. It was the biggest night in the young lives of the four acts left in the Sanremosocial section for new artists as one of them was crowned the winner.
The Artisti performed their songs in duets with other Italian singers. In a new twist for the festival, the songs were allowed to be performed with a different arrangement:
Noemi e Gaetano Curreri – Sono Solo Parole
Pierdavide Carone, Lucio Dalla e Gianluca Grignani – Nani'
Dolcenera e Max Gazzè – Ci Vediamo a Casa
Gigi D'Alessio, Loredana Bertè e Mario Fargetta – Respirare
Chiara Civello e Francesca Michielin – Al Posto del Mondo
Samuele Bersani e Paolo Rossi – Un Pallone
Eugenio Finardi e Beppe Servillo – E lo Chiami Dio
Nina Zilli, Giuliana Palma e Fabrizio Bosso – Per Sempre
Arisa e Mauro Ermanno Giovanardi – La Notte
Emma e Alssandra Amoroso – Non è l'inferno
Matia Bazar e Platinette – Sei Tu
Francesco Renga, Scala e Kolacny Brothers – La Tua Bellezza 
Two of these would be eliminated from the festival at the end of the evening through a combination of a public phone vote and the votes of the members of the Sanremo Festival Orchestra. The ten left standing will sing for victory tomorrow night.
After all the Artisti (and a couple of guests) had performed, it was
time for the four acts in the Sanremosocial section of the festival to
take to the stage and sing for votes The voting system used was slightly
different to that of the Artisti. Not only did the Sanremo Festival
Orchestra and Italian public vote by phone, but a 'Radio' jury and
Facebook users also had their say.
Alessandro Casillo – E' Vero
Iohosemprevoglia – Incredibile .
Marco Guazzone – Guasto  
Erica Mou – Nella Vasca da Bagno del Tempo
After some more light entertainment, it was time for……………the results, and there were some big shocks in store.
The winner of Sanremosocial was Alessandro Casillo. In the Artisti section, the two songs that were voted back into the festival yesterday survived to take part in the final on Saturday. The two unlucky acts leaving the contest for good were Chiara Civello, one of the pre-festival favourites and Matia Bazar.