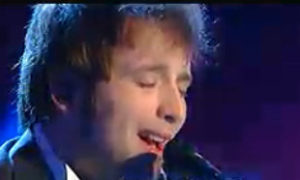 The fourth and penultimate evening of the Sanremo festival brought success for Raphael Gualazzi when he won the Giovanni section for new singers with his jazz song, Follia d'amore (The Madness of Love). He was the overwhelming favourite, winning the top score from all the voting groups.
Before all the Giovanni contenders sang, it was the turn of the 12 remaining acts in the Artisti category to perform their songs. However, there was a slight twist; all the songs were performed as duets, which made for some interesting combinations. With Italy chosen the song to mark its return to the Eurovision Song Contest, thoughts are also turning to which song will be chosen by the specially formed jury. At the end of the evening, two of the acts would be voted out of the festival with no chance of return. 
Luca Barbarossa and Raquel del Rosario with Neri Marcorè – Fine in Fondo
La Crus with Nina Zilli – Io Confesso
Anna Tatangelo with Loredana Errore – Bastardo
Max Pezzali with Lillo and Greg – Il Mio Secondo Tempo –
Tricarico and Si La Sol choir – 3 Colori
Giusy Ferreri with Francesco Sarcina – Il Mare Immenso
Luca Madonia ft Franco Battiato with Carmen Consoli – L'alieno
Nathalie with L'Aura – Vivo Sospesa
Roberto Vecchioni with PFM – Chiamami Ancora Amore
Davide Van De Sfroos with Irene Fornaciari – Yanez
Albano and Michele Placido – Amanda é Libera
Modá & Emma with Francesco Renga – Arriverá
As the results were announced at the end of the show, it started to look as if the two singers who had been voted back into the competition the night before, Anna Tatangelo and Al Bano, would be on their way out again. They had no need to worry, as their names were announced before the end and they would live to fight for victory in Saturdays Ultima Serata. Instead, Max Pezzali and Tricarico were eliminated.
After all the Artisti and their friends had performed, it was the turn of the four remaining Giovanni to compete for victory.
Micaela – Fuoco e Cenere
Raphael Gualazzi – Follie d'amore
Roberto Amadè – Come Pioggia
Serena Abrami – Lontano da Qui
Audience reaction told you that Raphael Gualazzi was the most popular, and so it proved to be. His jazz song won each of the various groups which made up the voting system. He must now be a strong candidate when the jury formed to choose the Italian entry for Dusseldorf make their choice.