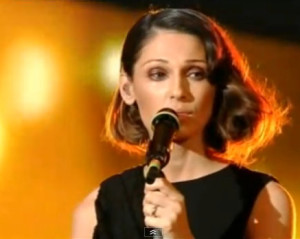 It was an evening heavy with drama and patriotism in San Remo's Teatro Ariston, as the Sanremo festival saw two of the singers rejected on previous evenings voted back into the event amid celebrations of the republic's 150th anniversary.
To commemorate this milestone, all the singers in the Artisti category sung famous Italian songs. The four singers voted out of the festival on the two previous evenings, Anna Tatangelo, Anna Oxa, Al Bano and Pattyy Pravo, faced a 'vote off' by the Italian public which would see two of them return to the competition, and the other two return to the bar!
The singers sang the following songs:
Davide Van De Sfroos – Viva l'Italia
Anna Tatangelo – Mamma
Anna Oxa with O Sole Mio
Al Bano – Va' Pensiero
Patty Pravo – Mille Ilire Al Mese
Luca Madonia – La Notte dell'addio
Giusy Ferreri – Il Cielo In Una Stanza
Nathalie – Il Mio Canto Libero
Luca Barbarossa and Raquel del Rosario – Addio, Mia Bella, Addio
Modá con Emma – Here's To You (L Ballata di Sacco e Vanzetti)
Max Pezzali – Mamma Mia Dammi 100 Lire
Roberto Vecchioni – O Surdato
La Crus – Parlami d'amore Mariù
Tricarico – L'Italiano
Modá con Emma currently lead a Corriere della Sera poll to win the festival.
Comedian Roberto Benigni has staged some entertaining routines over the last few years, and this year, he was given his own spot again. At the end, he changed the mood by singing a very sincere version of Italy's national anthem, Fratelli d'Italia (Brothers of Italy). It was seen by a lot of people. While he was on screen, the share of the television audience was an incredible 66%.
While the public were voting for which of the two Artisti would be brought back into the competition, the four remaining Giovanni to perform. They were:
Micaela – Fuoco e Cenere
Roberto Amade – Come Pioggia
BTwins – Mi Rubi L'Amore
Marco Menichini – Tra Tegole e Cielo
Two of these would also be voted out of festival. After the votes had been counted, BTwins and Marco Menichini would take no further part in Sanremo 2011.
The four Artisti facing the public performed their songs again. The most notable change of tack was Anna Tatangelo. When she performed on Tuesday night, she looked very much the rock chick, a look to match the song. Tonight, she had toned down her appearance to look more innocent. This fitted well with the theme of her song, a woman treated badly by her man. If it was a deliberate tactic, it worked, she, together with Al Bano, won enough votes to be reinstated to the festival. There is possibly a further consequence of this. Patty Pravo would have been a strong contender prior to the festival to be the choice of the special jury to go to Dusseldorf in May. Her early exit from the competition probably means that this will not now happen.
Finally, host Gianni Morandi, was emotional as he closed the evening with a beautiful rendition of Fratelli d'Italia