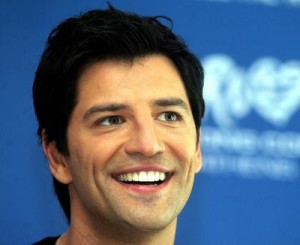 Greece traditionally has a miniature melodrama before deciding on their participant for the Eurovision Song Contest.  This year sees a break with that tradition as ERT have confirmed that Sakis Rouvas will once again be the Greek representative at the contest.
Sakis is no stranger to Eurovision having competed in the 2004 contest, coming third, and having hosted the contest in Athens in 2006.  Being a superstar in Greece and having had previous success at the competition amply qualifies him as a suitable candidate.
The news was announced by Mad.tv earlier today and was confirmed by ERT this evening.  Greece becomes the first country to announce their representative for the 2009 contest.  It was also revealed today that Dimitris Kontopoulos will be the composer of the song.  An official press conference is expected in mid-September.