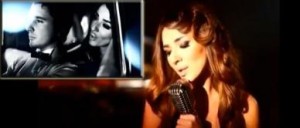 Sabina Babayeva the Azerbaijani entrant at the Eurovision Song Contest 2012 has just released a new single Sevgi Nəğməmiz (Love Song). The release of the song was put on hold for a year but has finally been released for all to hear. The song has heavy bossanova overtones and she sings convincingly about love .
Sabina Babayeva defended Azeri honour on home turf at this year's contest in Baku. Once more, the small country could add her performance to an already impressive track record of high placings since their debut, gaining fourth place with the huge ballad When The Music Dies. Babayeva is certainly aware of the fact that if something isn't broke then it needn't be fixed, as she releases her newest single in a similar, soulful vein.
Sabina started working on this song long before the national final took place. The video and song were directed and produced by Alex Pankratov, a famous Russian producer. The delayed release was apparently due to technical issues in the editing process of Sevgi Nəğməmiz. The recording of her newest single finally got underway two months ago in Baku. Local TV station Lider Channel ordered and assisted in the shooting of the music video, involving a Russian crew who helped in filming, implementing and releasing this beautiful song. It's a Jazz song in the bossanova style which is quite different from what Eurovision fans have previously heard in Baku and is best described as a seductive, beautiful melody about love. Even though you may not speak Azeri, you are still able to pick up the love vibe just from the melody.
A strong follow up single to her great success with When The Music Dies, Sevgi Nəğməmiz should hopefully provide Sabina Babayeva with a sizeable summer hit in her native Azerbaijan and possibly even Turkey.